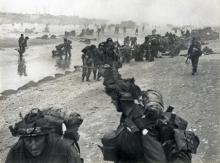 Just in time for the 70th anniversary of D-Day Friday, the U.S. Senate by unanimous consent passed a bill to include a prayer plaque at the National World War II Memorial in Washington, D.C.
The prayer
 to be included on the plaque was delivered over the radio to millions of Americans by President Franklin Delano Roosevelt on the morning of the D-Day invasion, the Allied push into Europe that eventually led to the end of the conflict.
"O Lord, give us Faith," the prayer reads in part. "Give us Faith in Thee; Faith in our sons; Faith in each other; Faith in our united crusade." It concludes: "Thy will be done, Almighty God."
The U.S. House will have to approve the bill, known as the World War II Memorial Prayer Act of 2013, before it heads to President Obama's desk for his signature. But political pundits say there is little doubt the House will approve the measure since it passed a similar version of the bill last year.