family history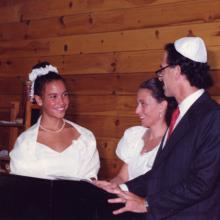 The Schwartzs seemed like any other Jewish family in Woodstock, N.Y. except for one thing: Mom and Dad were obviously white, and their daughter Lacey was obviously not.
That racial disconnect would be easier to fathom if Peggy and Robert Schwartz hadn't had everyone believing their dark-skinned daughter was the biological child of both parents.
It would take Little White Lie, the film an adult Lacey made about family secrets and religious identity, to unpack this mystery.
"I grew up in a world of synagogue, Hebrew school, bar mitzvahs," Schwartz narrates over a home movie montage of Jewish holiday celebrations and her own bat mitzvah.
"So it never occurred to me that I was passing," she continues.
"I wasn't pretending to be something I wasn't. I actually grew up believing I was white."
Little White Lie, which has enjoyed success on the film festival circuit and will reach a larger audience when PBS's Independent Lens airs it on March 23, revolves around a flabbergasting central question: How could this family pretend that she owed her complexion to the genes of dad's darkest Italian ancestor?
Schwartz said she wants the film to model how people can face up to family secrets and move on with their lives. In her case, the secret was her mother's affair with a black man.
"After the first exile, there is no other."
—Rosellen Brown, The Autobiography of My Mother, 1976
The great wheel of the year has turned once more, and I find myself back at the beginning again. Not at the start of a brand new year, but rather, at the anniversary of my father's death.
I was eight years old when he died, on January 8, 1977, after six long months of decline from lung cancer. In the family's last-minute midnight scramble to the King's Daughters Hospital to offer a final farewell, I was adjudged too young and too asleep to wake up for the ride.
I found out that he had died when I crawled from bed at dawn the next morning, yawning and jonesing for cartoons, only to find a bath robed neighbor stoking the fireplace, and my father disappeared into ether.
That singular fact has been the still point of my turning world in the decades since.