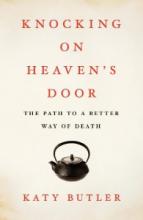 Experienced as the Butlers were in suffering and loss, they were not prepared for the technologically enhanced torments of old age.
Knocking on Heaven's Door tells what can happen when a person's mind and body endure a series of shocks that would naturally lead to decline and death — except that, through various technological interventions, the body is not allowed to decline along with the mind.
In Professor Butler's case, a major stroke wiped out most of his ability to function independently and set him on the road to dementia. At the same time, his heart was slowing down. A year after his stroke, over the opposition of his primary care physician, Butler was fitted with a pacemaker. His cardiologist strongly recommended it. He needed hernia surgery, the doctor said, and his heart was not likely strong enough to survive the operation. So he had the pacemaker installed, he had the surgery, and he was rewarded with another six years of increasingly hellish existence — not only for himself, but also for his wife and his daughter. His mind was shot. His body would not do what he wanted it to do. But his artificially assisted heart kept relentlessly ticking away.