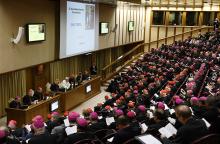 The tug-of-war at the Vatican over calls for the Catholic Church to be more open to gays and cohabiting couples intensified Oct. 16 as conservative bishops sought to rein in or renounce draft language they feared might condone lifestyles not in accord with church teachings.
The lobbying at the two-week summit of church leaders — a synod on family life that is set to wrap up Saturday with a final report — was epitomized by the retranslation of a headline from "welcoming homosexual persons" to "providing for homosexual persons."
In the text, the line "Are we capable of welcoming these people, guaranteeing to them a fraternal space in our communities?" was changed to, "Are we capable of providing for these people, guaranteeing … them … a place of fellowship in our communities?"
The change in the English version was not made in the Italian original, where the term "accogliere," which means "to welcome," was kept.
The Vatican's chief spokesman, the Rev. Federico Lombardi, said the first document was only a "transitory text" and suggested there were errors in translation.