drinking
One morning, I walked out the front doors of the center and turned down Jefferson Street toward the Ohio River. There, huddled in a circle beside the wall of our building, was a group of worn, ragged homeless men. I knelt down with them and said, "Hello."
One of the men smiled a toothless smile at me, reached into his coat, pulled out a bottle of Wild Irish Rose, took a swig, and passed it to me. "Here," he said. "Have a drink."
It was truly a John Irving moment. Here I was offering my alcoholic friend a "hello" and he offering his ministerial friend a drink. He was offering me the thing that was most important to him.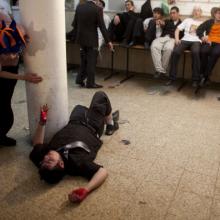 It's almost Purim, and Rabbi Tzvi Hersh Weinreb is feeling a mix of joy and dread.
Joy because the Jewish holiday commemorates the survival of ancient Jews against the threat of extinction and children dress in costumes and exchange gifts and candy. Purim, on Wednesday (March 7), is also Weinreb's birthday.
Dread because too many times, Weinreb has seen the high cost of Purim's darker side, the "ugly and despicable behavior" of young yeshiva students who drink to excess on a day that is equal parts Halloween and Fat Tuesday.