Dr. Jim Yong Kim
In the past few months, the world has witnessed the worst outbreak of Ebola since the disease was first identified in 1976 — it has already claimed the lives of more than 3,400 people. But while the first cases in the U.S. and Spain have stirred fears over the past week, we don't need to fear an unstoppable epidemic in developed countries. As World Bank President Jim Yong Kim aptly put it in a piece for the Huffington Post:
The knowledge and infrastructure to treat the sick and contain the virus exists in high- and middle-income counties. However, over many years, we have failed to make these things accessible to low-income people in Guinea, Liberia, and Sierra Leone. So now thousands of people in these countries are dying because, in the lottery of birth, they were born in the wrong place.
Dr. Kim makes the crucial point here — the current Ebola outbreak is much more than a public health crisis — it is an inequality crisis.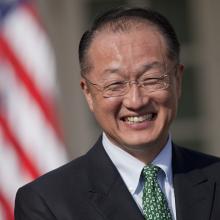 In a move that surprised many in the world of economics and politics, on Friday morning President Obama nominated Jim Yong Kim, the South Korea-born physician, anthropologist and president of Dartmouth College, to be the next president of the World Bank.

Prior to taking the helm at Dartmouth in 2009, Kim, 52, led the global health and social medicine department at Harvard Medical School, of which he is a graduate. Widely considered one of the leading minds in world health, Kim also has served as a director of the HIV/AIDS department at the World Health Organization, where he focused on helping developing countries improve treatment and prevention programs.

Obama called Kim, "an innovative leader whose groundbreaking work to fight disease and combat poverty has saved lives around the globe." The President said Kim is exceptionally well qualified for the position but brings "more to the role than an impressive record of designing new ways to solve entrenched problems.

"Development is his lifetime commitment, and it is his passion," Obama said. "And in a world with so much potential to improve living standards, we have a unique opportunity to harness that passion and experience at the helm of the World Bank."