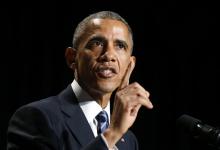 President Obama on Feb. 5 called for an emphasis on what is just about the world's religions as a way to counter the ways faith has been distorted across the globe.
"We see faith driving us to do right," he said to more than 3,500 people attending the annual National Prayer Breakfast. "But we also see faith being twisted and distorted, used as a wedge — or worse, sometimes used as a weapon."
He urged believers of all faiths to practice humility, support church-state separation and adhere to the Golden Rule as ways to keep religion in its proper context.
"As people of faith, we are summoned to push back against those who try to distort our religion — any religion — for their own nihilistic ends," Obama said.
"Here at home and around the world we will constantly reaffirm that fundamental freedom: freedom of religion, the right to practice our faith how we choose, to change our faith if we choose, to practice no faith at all if we choose, and to do so free of persecution and fear and discrimination."