Coup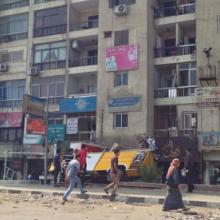 Egypt now teeters on the edge of an abyss. Sen. John McCain (R-Ariz.), who was in Cairo earlier this month at President Obama's request to mediate between the military-backed interim government and supporters of ousted President Mohammed Morsi, told CBS News: "Oh my God, I didn't know it was this bad. These folks are just days or weeks away from all-out bloodshed."
The widely anticipated military crackdown against pro-Morsi demonstrators began last week, so we'd better brace for the blow-back.
The rising specter of repression in Egypt is difficult to watch for two reasons. First, it confirms that the counterrevolution is successfully restoring the deep state — the vast security apparatus upon which military autocracy in Egypt has been based since Gamal Abdel Nasser's rule in the 1950s, effectively extinguishing any hope of transition to democracy. Second, the violent crackdown evokes bad memories of earlier efforts by Egypt's military strongmen to crush their Islamist opposition.
"Strange bedfellows" denounce Honduran military overthrow.