convergence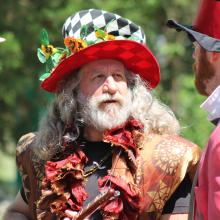 SHAKORI HILLS, N.C. — On a swelteringly hot solstice weekend in the southeast, a couple thousand folks gathered in the woods of North Carolina to get their collective goose cooked. An early summer camp like no other, this second annual festival invokes a Celtic image of the Holy Spirit and sparks unlikely convergences inside the great emergence of the contemporary Christian counterculture.

The Goose blends the best of an intellectually engaged faith conference and social justice activist base camp with the sonic frivolity of a modern rock festival and stirs all concepts and collapses all constructs in a steamy potluck stew of primal camp meeting and postmodern tent revival. Without a doubt, the blossoming and beckoning of the Wild Goose movement in North America heralds a bright radical future for today's Jesus followers bringing the kingdom come.
Wild Goose Festival: Sunday Call to Worship from cathleen falsani on Vimeo.