On a swelteringly hot solstice weekend in the southeast, a couple thousand folks gathered in the woods of North Carolina to get their collective goose cooked. An early summer camp like no other, this second annual festival invokes a Celtic image of the Holy Spirit and sparks unlikely convergences inside the great emergence of the contemporary Christian counterculture.

The Goose blends the best of an intellectually engaged faith conference and social justice activist base camp with the sonic frivolity of a modern rock festival and stirs all concepts and collapses all constructs in a steamy potluck stew of primal camp meeting and postmodern tent revival. Without a doubt, the blossoming and beckoning of the Wild Goose movement in North America heralds a bright radical future for today's Jesus followers bringing the kingdom come.


Wild Goose Festival: Sunday Call to Worship from cathleen falsani on Vimeo.
Like at any good tent revival, the weekend provided ample opportunities to hear some of America's more prophetic pastors preach the word. Early in the festival, we were blessed to hear the likes of Shane Claiborne call us into the kind of sacred mischief that might undermine the principalities and powers. Sojourners' chief-executive-trouble-maker Jim Wallis borrowed lessons from coaching little league baseball and welcomed us back to the enchantment of our youth when a lion named Aslan whispered in our ears.

As the keynote Saturday-night sermon, the Rev. William Barber, head of the NAACP in North Carolina, challenged the crowd to confront and embrace their inner "theological conservative," preaching a rousing, rooted message about the aspects of God's character that never change. A risky rhetorical move indeed, Barber's sermon threw some barbs at the so-called conservative rejection of the deep Gospel radicalism that fuels his black church tradition.

While some presenters clearly preached and probed for most of their allotted time in a tent or on a stage, other sessions that were specifically billed as worship wonderfully employed various mediums (song, call/response, humor, performance art) and many moments of liturgical interaction, such as taking Eucharist with strangers or enjoying the Bapticostal Misfits blend of hilarity and humility with U2's "One" and "I Still Haven't Found What I'm Looking For" as their hymns.

Other sessions came as panels, talks, and conversations where multiple speakers or performers interacted around a theme. Chief Goose Gareth Higgins riffed with Nashville songwriter-professor Dave Perkins. Lauren Winner gave a riveting reading of some of the more emotionally ratcheted pieces from her recent book Still, juxtaposed with live songs performed by Over The Rhine. The Darkwood Brew crew recorded wonderful webcasts.

The Goose is an odd bird that's not easily pigeonholed but one that stands out for its insistence on social justice and inclusion. Voices from the edge that felt entirely central to this project and for once not marginalized included anti-war Iraq and Afghanistan vets, anti-poverty and anti-death penalty crusaders, simple-living pioneers, 12-steppers, and LGBTQ sisters, brothers, and others.

Julie Goss Clawson's provocative talk on the Hunger Games pushed far past the surface of the pop culture sensation to probe problems of privilege, empire, and economy. An unexpected surprise came when "Faitheist" Christopher Stedman wowed a Sunday afternoon crowd (that stayed after many had started to pack up and go) with his journey as queer man, atheist, and former evangelical to make enormous, good-natured inroads into the culture's larger interfaith conversation.

Moreover, the Goose is an intergenerational and all-needs accessible festival. Not only did toddlers and teens roam the woods as though they'd always lived there, esteemed elders such as Vincent Harding, Frank Schaefer, and June Wink presented some of the weekend's most important sessions.

The festival theme of exile and return united the various threads giving the entire event a beatific synergy and gently chaotic chemistry. In the field before the mainstage, Brian McClaren led morning devotions where we wrestled with our common exile from the garden but still came running home like prodigal sons and daughters. In that same field, we constructed a very real wall of fear and grief that later we would tear down in repentance and celebration.

Ecstatic but exhausted, we were ready for a very mellow Sunday morning lecture by Carl McColman, who encouraged us to heed the radical call to silence found in subversive contemplation. As we sat quietly awash in our brother's invitation to experience God's mysterious attention to our attentive meditation, the temporary bliss provided such a compelling case for quiet. But it would not last, as we were suddenly unconvinced as the feisty jangle of a jazz parade interrupted our calm before the creator.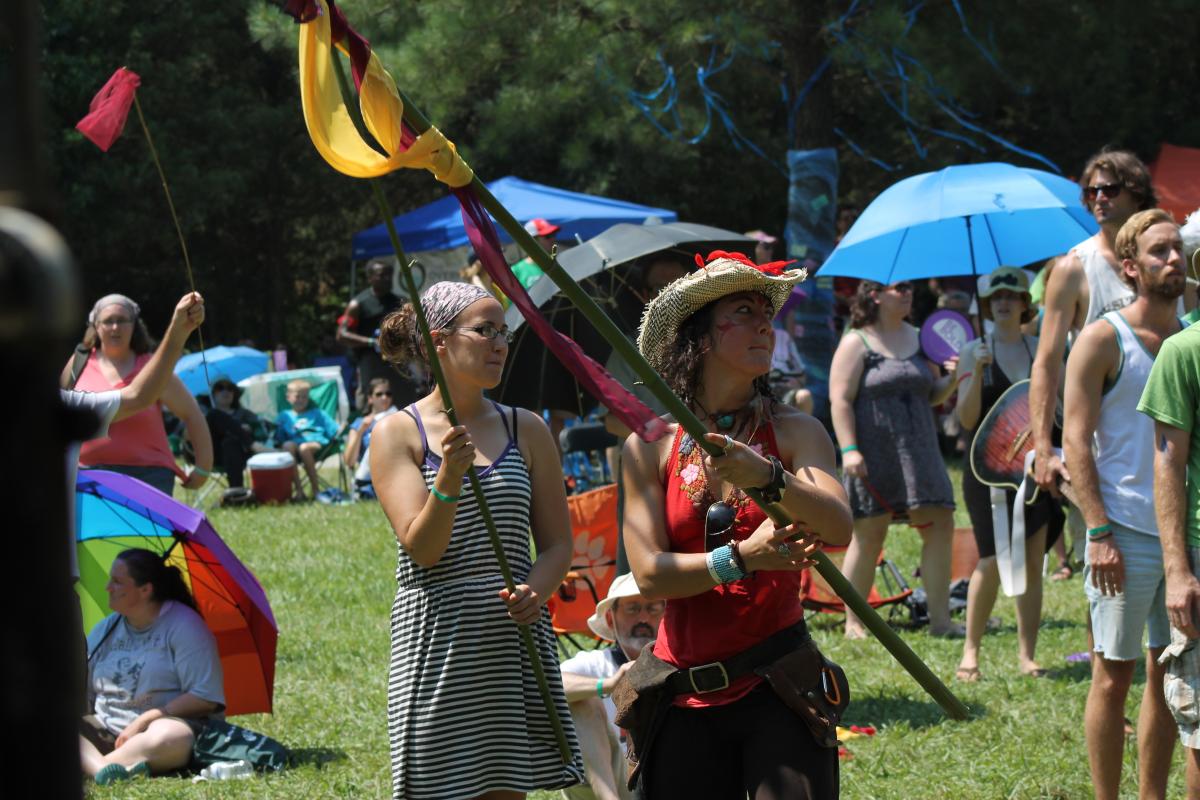 Like the great peace marches we've seen across the continent over the last decades, the Sunday processional brought puppetistas and prophets and drums and people in costume and dreadlocked acoustic guerrillas singing "When The Saints Go Marching In." This hectic eclectic ensemble served as our call to worship and it was sensational. As God's Politics bloggerina Cathleen Falsani described it: "It's 1973, and we're all in the cast of Godspell."

Although familiar anchors existed like a worship band and some testimonials, the all-festival Sabbath liturgy was more of a theatrical pageant like what you might expect at Bread and Puppet or Burning Man. In some grand crazy narrative, the Holy Fool defied the Totalitarian Pharisee until their conflict crumbled in weeping and singing around a wooden stool where Christ had prepared the adversaries a feast of pita bread and wine. At that moment it was clear: someone had hit the pause button on empire, and we all lived like the veil was lifted for Kingdom Come.

Thanks to Wild Goose, the great joyful works that Harvey Cox called for in his 1969 treatise The Feast of Fools are yet again being realized. The Jesus People have returned, but this time with a progressive, inclusive, almost surrealist agenda for employing lovely, mischievous light-heartedness in the service of the divine.
As Cox wrote so long ago, at Wild Goose we experience a Christianity "more heterogenous, messier, more sensuous, more variegated, more venturesome, more playful," creating a space "in which a delightful wedding feast is in progress, where the laughter rings out, [and] the dance has just begun."

Thanks to the preachers and teachers and convivial conversation with the expanded congregation, we experienced ample hope despite the heat. But at the end of the day, this sacred shindig was meant to be a holy hootenanny — a jam session for the permanent jubilee.

Festival curators compiled a concert-ticket that looked like a "who's who" in independent Christian music that blended folk, rock, gospel, blues, world fusion, and more. The rocking sets from main-stage acts included Derek Webb, Jennifer Knapp, Josh Garrels, Damion Suomi and the Minor Prophets, Aradhna, Naomi Shelton and the Gospel Queens, the Rev. Vince Anderson and his Love Choir, David Crowder, and Gungor — to name just a few highlights.

But our biggest sonic surprises often came at the Coffee Barn or in the back field by the tent called the Performance Café, with its late-night dance parties and humid early-afternoon hoedowns. Among all of these though, most worth noting are the up-and-coming David Wimbish and the Collection Family Band aka "The Collection" for short. With a stage packed with multi-instrumentalists and fueled by meaning, this "all y'all come on now" kind of epic ensemble combined the best of large indie pop outfits such as Arcade Fire or Edward Sharpe and the Magnetic Zeros, with the ferocious vocal passion of a group such as Mumford & Sons. With their lightning hot lyrics located in a love for the gospel, we can expect great things from the Collection.

Leaving Wild Goose was bittersweet. As much as we missed our creature comforts, as the festival drew to a close, I felt as if I were climbing back through the wardrobe, returning to civilization from Narnia and its magic. But the good news is that Aslan goes with us, and as Wallis, one of the festival's founding visionaries reminded us, The Lion is always there to guide us, to whisper in our ears—and call us back to future Wild Goose Festivals.


Andrew William Smith is an English professor by day and DJ by night who works as the Faculty Head of Tree House living and learning village at Tennessee Tech. He's an activist, poet, blogger, writer/editor at Interference.com, seminarian, unlikely Sunday school teacher, and aspiring preacher. Follow Andrew on Twitter @teacheronradio
 
Got something to say about what you're reading? We value your feedback!