Conestoga Wood Specialties Corp. v. Sebelius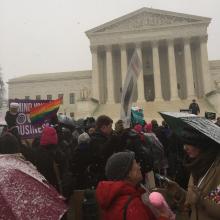 Today, the Supreme Court heard two cases that have major implications for the intersection of religious liberty and health care in America. While Sebelius v. Hobby Lobby Stores and Conestoga Wood Specialties Corp. v. Sebelius were argued before the Court, hundreds of activists voiced their opinions outside the Court's chambers.
The Court will decide whom the so-called "contraception mandate" law in the Affordable Care Act applies to. Both of the challengers to this section of the 2010 health law say that providing certain forms of birth control violates their sincerely held religious views. Though there are already exemptions in law for churches and some nonprofits, this case will decide whether for-profit corporations are offered protection under the religious liberty clause of the First Amendment to deny contraception coverage to their employees.