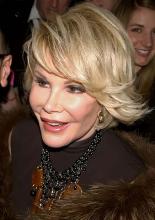 Joan Rivers, 81, the acid-tongued survivor of popular comedy and entertainment, died Sept. 4. Who could possibly find it funny?
Joan would have.
Humor, she said, was how she dealt with all life's triumphs and defeats.
She once said, "I knew I was funny and I knew it was powerful" as early as 8 years old.
Born Joan Alexandra Molinsky in Brooklyn, the daughter of Russian immigrant Jews, she graduated Phi Beta Kappa from Barnard. ("My mother wanted M.D. to stand for Make Dollars.")
But she couldn't get a door opened to the stage until she started making the gatekeepers — the agents' secretaries — laugh.
She worked her way up through New York comedy clubs, over into TV and finally, after seven auditions, onto a stand-up stint on Johnny Carson's "Tonight Show." By 1983, she was Carson's regular guest host until a bitter feud over her competing TV endeavors brought their friendship to an end.
Rivers' first marriage ended in divorce; her second ended in tragedy when her husband killed himself. Even so, she said, "I enjoy life when things are happening. I don't care if it's good things or bad things. That means you're alive."