come and see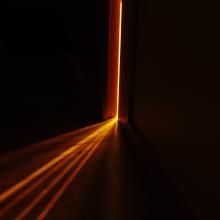 Ultimately, we learn to overlook the light already present in these places. We come to think that our responsibility is to bring light when instead we should bear witness to a flame that already exists. In reality, where God is, there is light. If this whole created earth belongs to the Lord, there is no place his light doesn't send forth a warm glow.
I used to volunteer with an organization called PEER Servants. PEER is an acronym for Partnering for Economic Empowerment and Renewal. PEER Servants partners with indigenous Christian microfinance institutions that want to help transform their communities and empower others to do the same. During my time as a volunteer, I learned about a woman in South Africa who used the profits from her business to begin a nursery school for her community. I read about a man in Uganda who wanted to expand his business so he could provide more jobs for his neighbors. These stories spread hope to my North Carolina home, a hope as warm as a rising sun.
In the first chapter of the biblical book of John, Nathanael says to Phillip, "Can anything good come out of Nazareth?" to which Phillip answers, "Come and see."
Based on the typical narrative the West gives the African countries, the question might become, "Can anything good come out of the African continent?" And I would answer, "Come and see."
As you are reading this, the Congressional Joint Select Committee on Deficit Reduction (a.k.a. The Super Committee) is making choices about who and what our nation will protect.
Will we protect the wealthiest 2 percent by preserving $690 billion in Bush era tax cuts?
Or will we protect children by preserving $650 billion in special education, student aid, and assistance to low-income schools?
Will we protect corporations by preserving $97.5 billion in subsidies for big business or will we protect families by preserving $98 billion in Head Start and child care programs?
We have 32 days left to remind Congress that, "Oppressing the poor in order to enrich oneself, and giving to the rich, will lead only to loss" (Proverbs 22:16).