christian right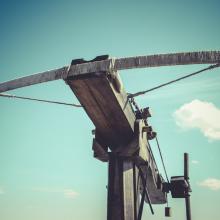 On my recent 4,100-mile pilgrimage across the U.S., I occasionally used my radio's "seek" function to find stations.
I often stopped on a "Christian radio" station, sometimes a national network such as American Family Radio, sometimes a local effort featuring preachers from area churches, always conservative.
I did so because I enjoy gospel music and I was curious what the radio preachers were saying.
They tended to be excellent speakers and well-prepared. But their message seemed frozen in time, as if nothing had changed in America since the 1950s except for the identities of enemies who are allegedly "attacking Christians," "attacking Christian values" and "attacking the American way of life."
This siege mentality seemed basic to every preacher I heard. I suppose it's one way to rally the troops. Get them fearful, angry, and suspicious.
It's always annoyed me when people assume that, because I'm a Christian, I must also be socially conservative on all requisite issues. And while I understand those who lean further right because of their Christian beliefs, I take issue with those who suggest that being both a follower of Christ and a social progressive are mutually exclusive.
In fact, most of my positions on social issues can be traced back to my faith, which goes to show that the spectrum of beliefs taken from any given faith, as well as the many ways in which those beliefs are applied, is wide and arguably still growing as we continue to become increasingly pluralistic and intertwined.
Depending on your perspective, it could be argued that the landscape of presidential candidates either reflects such religious diversity, or that it's still more of the same old majority rule at play, with a few minor cosmetic adjustments. For some, the fact that a Mormon is the Republican nominee is nothing short of astonishing, and what's more, that the evangelical right is generally finding their way toward alignment with Mitt Romney's presidential ticket.
It's also worth noting that last week's vice presidential debate was the first time in history that we've had two Catholic VP nominees running against each other. The only fairly typical one in the group (unless you ask the Muslim conspiracy theorists, that is) is Barack Obama who is a member of the mainline protestant Christian denomination, the United Church of Christ.