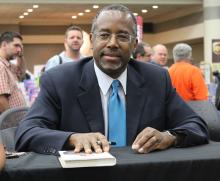 Ben Carson, the retired neurosurgeon once best known for separating conjoined baby twins, announced May 4 that he will pursue the Republican nomination for U.S. president. Carson is now known as a culture warrior whose criticisms of President Obama have made him a favorite of conservatives. Here are five faith facts about him:
1. He's a twice-baptized Seventh-day Adventist.
In his book Gifted Hands, Carson, 63, describes being baptized as a boy by the pastor of Detroit's Burns Seventh-day Adventist Church. At age 12, he told the pastor of another Adventist church in the Detroit suburb of Inkster, that he hadn't completely grasped his first baptism and wanted to be baptized again.
Carson has served as an Adventist local elder and Sabbath school teacher. But he attends other churches. "I spend just as much time in non-Seventh-day Adventist churches because I'm not convinced that the denomination is the most important thing," he told RNS in 1999. 
"I think it's the relationship with God that's most important."