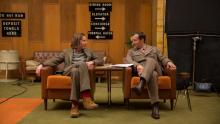 To my mind, all of Wes Anderson's films are masterpieces in the truest sense of that word. But his most recent creation, Grand Budapest Hotel, is, perhaps, his chef d'oeuvre.
Anderson's eighth feature-length film, which opened in limited release last week, Grand Budapest Hotel is a whimsical, hilarious, and surprisingly touching tale laden with nostalgia for a world and way of life most of us (including the 44-year-old director himself) never have experienced.
Set in the fictional Eastern European mountain region known as the "Republic of Zubrowka," the plot centers around the character and adventures of Monsieur Gustave H. (Ralph Fiennes), the concierge of the eponymous Grand Budapest Hotel, one of Europe's palatial "grand hotels. Gustave is something of a dandy, a throwback to a bygone era even in his heyday of the 1930s on the cusp of World War II.
)