chinese exclusion act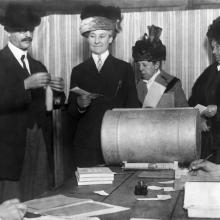 I'm tired of reading blogs from my White Christian brothers about why they are choosing to vote. There. I said it.
I'm all for being a part of the democratic process, but it seems a bit odd to me that so many of these bloggers are coming from a position of power and privilege they themselves have always had. It seems a bit arrogant to choose something that was always theirs.
The way I see it, they had better vote. The vote of the White male is what finally allowed people like me – a woman, an immigrant, a non-native English speaker – to have the right to vote. I didn't have a voice. I didn't matter. Neither did my ancestors, who immigrated here under quota systems developed by people in power for the benefit of the country and the powers-that-be.
And there still are people who have no voice, who have no right to vote, but they are directly impacted by the politicians, referenda, judges, and local officials as well as the "agendas and policies." As a Christian who is new to the process, its a privilege and responsibility I don't take lightly because it isn't a given. I'm not American born. We are not post-racial America, and the fact of the matter is the church isn't either. We are working on it, but we aren't there.
Did you know that in 1882 Congress passed the Chinese Exclusion Act denying citizenship and voting rights to Chinese Americans? Yup, they could build the railroads but they can't vote.