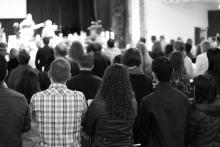 A prominent evangelical Christian church in San Francisco has announced it will no longer ask members who are lesbian, gay, bisexual, or transgender to remain celibate.
"We will no longer discriminate based on sexual orientation and demand lifelong celibacy as a precondition for joining," senior pastor Fred Harrell, Sr. and six board members of City Church, one of the largest members of the Reformed Church in America denomination, wrote to members in a letter emailed to members March 13.
The church, which claims about 1,000 attendees and meets at two San Francisco locations, has long welcomed LGBT persons to attend, but has required life-long celibacy of those LGBT persons seeking membership.
"Imagine feeling this from your family or religious community," the letter states.
"'If you stay, you must accept celibacy with no hope that you too might one day enjoy the fullness of intellectual, spiritual, emotional, psychological and physical companionship. If you pursue a lifelong partnership, you are rejected.' This is simply not working and people are being hurt. We must listen and respond."
City Church's action places it in the ranks of at least two other large, urban evangelical congregations that have reversed their policies requiring celibacy for gay members. In January, both Nashville's GracePointe Church and Seattle's EastLake Community Church reversed their celibacy policies.
The policy of many evangelical denominations and independent churches is that homosexuality is "incompatible" with the Bible and therefore cannot be tolerated among members, or the broader society.