Cardinal Sean O'Malley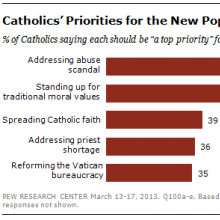 Pope Francis is creating a special commission to deal with the clergy sexual abuse crisis on a global scale, a step that comes amid growing criticism that Francis had not given sufficient attention to the scandal.
Boston Cardinal Sean O'Malley made the announcement on Thursday in the Vatican where he was meeting this week with Francis and the other members of the so-called "Gang of Eight" cardinals that the pope chose to help him reform the Roman Curia.
O'Malley, who is the U.S. bishop with perhaps the most credibility on the abuse issue, listed a range of programmatic ideas for the commission, whose members are expected to include lay people, mental health professionals, and other experts in the field as well as leading churchmen.
After a closed-door session at their annual meeting in Baltimore this month, the U.S. Catholic bishops issued an unusual "special message" reaffirming their long-standing opposition to the Obama administration's birth control insurance mandate.
On one level, the declaration and the united front were no surprise: The American church hierarchy has made opposition to the mandate a hallmark of its public lobbying efforts, framing the issue as an unprecedented infringement of religious freedom.
Several bishops even vowed to go to jail rather than comply with the mandate. Others threatened to shutter the church's infrastructure of hospitals, charitable ministries, schools, and universities rather than accept a policy that they say would force Catholic employers to provide health insurance that covers sterilization and perhaps abortion-inducing drugs as well as contraception.