Cardinal John O'Connor
Cardinal Timothy Dolan's positive reaction to this week's decision by organizers of New York's annual St. Patrick's Day parade to allow gay groups to march under their own banners initially drew charitable responses in many Catholic Church circles.
But it didn't take long for conservative church critics to turn.
After initially signaling his grudging acceptance, William Donohue of the Catholic League came back with a revised view when he realized that more than one gay group could be allowed to march in the future.
"The goal of these activists, supported by the corporate elite, is to neuter the religious element of the parade," Donohue said. "This is an Irish-Catholic parade, and if what comes after the hyphen is cut, so will the parade's support, beginning with the Catholic League."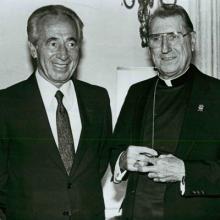 In April 1908, Dorothy Gumple, a 19-year-old Jewish woman living in Connecticut, converted to Roman Catholicism. Less than two years, later she married a Catholic immigrant from Ireland. They and their five children lived in Philadelphia where her husband was a lifelong trade union member. It is not exactly the stuff global news stories are made of.
Except this: Their fourth child became the world-famous archbishop of New York, Cardinal John J. O'Connor, who served in that position from 1984 until his death in 2000.
Last month, in the Catholic New York newspaper, the cardinal's 87-year-old sister, Mary, revealed the story of their mother's conversion for the first time, and claimed she and her brother "did not know [our] mother was Jewish." The O'Connor children "presumed that she had converted from another Christian religion."