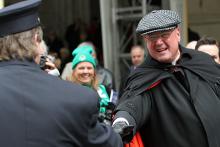 Cardinal Timothy Dolan's positive reaction to this week's decision by organizers of New York's annual St. Patrick's Day parade to allow gay groups to march under their own banners initially drew charitable responses in many Catholic Church circles.
But it didn't take long for conservative church critics to turn.
After initially signaling his grudging acceptance, William Donohue of the Catholic League came back with a revised view when he realized that more than one gay group could be allowed to march in the future.
"The goal of these activists, supported by the corporate elite, is to neuter the religious element of the parade," Donohue said. "This is an Irish-Catholic parade, and if what comes after the hyphen is cut, so will the parade's support, beginning with the Catholic League."