cardinal bergoglio
Last Sunday night, the Rev. Thomas Rosica was walking through the Piazza Navona in Rome's historic center when he bumped into Cardinal Jorge Bergoglio, who he has known for years. Bergoglio was walking alone, wearing a simple black cassock and he stopped and grabbed Rosica's hands.
He had reason to be worried. Two days later, on Tuesday evening, he and 114 other cardinals entered the conclave to elect a successor to Benedict XVI; a little more than 24 hours and five ballots after that, Bergoglio emerged on the balcony of St. Peter's Basilica as Pope Francis. "I want you to pray for me," the Argentine cardinal told Rosica, a Canadian priest who was assisting as a Vatican spokesman during the papal interregnum. Rosica asked him if he was nervous. "A little bit," Bergoglio confessed.
It was a surprising outcome, and even if Bergoglio suspected something was up, few others did, including many of the cardinals in the Sistine Chapel with him.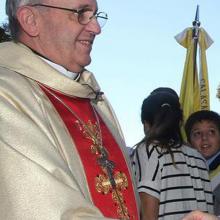 Argentinian Cardinal Jorge Mario Bergoglio was elected as Pope Francis I on Wednesday, after only two days of voting in the conclave tasked with choosing a successor to Pope Benedict XVI.
According to anonymous reports of the 2005 conclave, he was the leading contender against then-Cardinal Joseph Ratzinger, who became Benedict XVI. Bergoglio, 76, has served as the archbishop of Buenos Aires since 1998 and was made a cardinal in 2001. He is the first Latin American and the first Jesuit to rise to the papacy.
In his first address to the huge crowd that had gathered in St Peter's Square, Francis asked for the prayers of "all men and women of good will" to help him lead the Catholic Church.