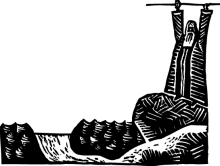 In one of the screen-saved memories cataloged from my childhood, I sit in the living room, cross-legged, chin supported by two fists, staring up at moving pictures flashing across a small screen. On network television — because we didn't have cable back then — Moses (aka Charlton Heston) led thousands of his people out of captivity. They just walked out of Egypt — streams of them. And then they reached the Red Sea.
The Egyptian army was at their back, pressing in. In that moment, though they had left captivity, freedom was not a done deal. They still had to cross over. They were still at war. They still had to outrun an army trained to kill or enslave them again.
Heston — I mean Moses — stood straight-backed on the bank of the Red Sea. He lifted his staff and put it down at the edge of the water, and a miracle took place in living rooms across America. The sea parted. I'll never forget that moment. This moment was crafted before the digital era — before Disney's Prince of Egypt, even before Star Wars, and yet it was still awe-inspiring. My eyes focused like lasers watching whole families cross a sea on foot.
Moses led. He was not a king. He was a foster child. He was not from the dominant culture. He was from an enslaved people. He was not a great orator. He stuttered, but he led anyway. He said "Yes" to God's call and leaned into it. And because he did, the people were set free.