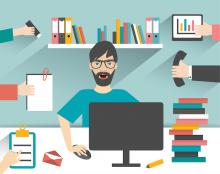 While I can make things happen, contribute to long-term movement, and rally folks around a vision, I can also overwork, form my identity around the things I do rather than who I am and, in the end, miss out on the sacredness of being present in the beautiful mundane of everyday.
This is an important realization (and a hard one!) and I'm having to do a little extra evaluation of it in my current season of life with nearly four kids, a non-profit, and a household that requires the attention of a Fortune 500 CEO.
I was recently on a walk to the park with my girls Ruby (4) and Rosie (2). While I was distractedly responding to an email on my "smart" phone, I looked over and noticed that Rosie had fallen behind and was bent over staring at the ground. As I circled back around to speed her up, I noticed that she was looking at a crack in the sidewalk admiring the little twig that was sprouting between the concrete slabs.
For her, she wasn't at all concerned about arriving at a destination, but about being fully present along the way. In this tiny twig, Rosie found beauty and she wasn't about to miss it.