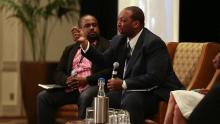 Last summer, Sojourners hosted The Summit: World Change Through Faith & Justice. It was a powerful gathering of 300 leaders that convened on important issues of faith and justice. The Summit is a chance for leaders to grow, learn, and be encouraged. It is a rare opportunity to be supported by peers who understand the pressures and struggles of public ministry and leadership.
I'm pleased to announce that Sojourners is hosting The Summit 2015 this June in Washington, D.C. It's poised to be this year's gathering of cross-sector leaders joining together to effect change in this country and beyond.
And I need your help. We need to you to nominate the best leaders that no one has heard of to attend The Summit . She could be a seminarian or young pastor, an entrepreneur creating jobs, or a civic leader solving problems. He could be an academic, an artist/musician, a philanthropist, or a local leader who has been working tirelessly for years to knit a community together.
That leader could be you. Fill out the nomination form and tell us why.