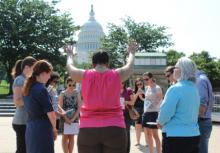 Yesterday was one of the craziest days in recent American political history. House Majority leader Eric Cantor fell to Tea Party economics professor David Brat in a primary upset no pundit saw coming.
While the early analysis suggested that support for immigration reform may have been what brought Cantor down, exit polling suggests his lack of attention to the concerns of his constituents and his inability to deliver on his promises were a greater factor than the immigration issue. Cantor never brought a vote on immigration to the floor and was never a strong ally on immigration.
Earlier on Tuesday, the Public Religion Research Institute (PRRI) released an immigration poll at the Brookings Institute. Nearly 80 percent of all Americans and nearly two-thirds of white evangelical Protestants remain in support of immigration reform that includes a path towards citizenship or legal status.