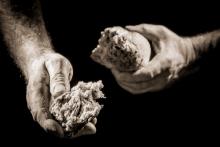 Interesting fact: The term "breaking bread" goes back many centuries and crosses many cultures and religions. It's a shared term for coming together in meal and friendship. The term applies today — you can find it in some urban dictionaries. 
For as long as we've been around, we've come together and connected over a meal. We enjoy breaking bread and telling stories, restoring friendships, and creating new ones.
Bread has been a staple of diets for a long time, so it's a natural choice to capture the essence of eating together. Also, it's wonderfully symbolic. When we break bread, each of us gets one piece of a bigger loaf. It feeds our sense of connection.
It's not surprising that bread-breaking is a touchstone religious practice. For instance, it's part of Jewish tradition. Two thousand years ago, a Jewish rabbi chose it as a way for his followers to remember their unity.
Jesus spent the last years of his life teaching that everyone is responsible for everyone else and must live that way — feed the hungry, give drink to the thirsty, heal the sick, visit the imprisoned, care for the poor. Breaking bread is a reminder that our lives are about more than ourselves.