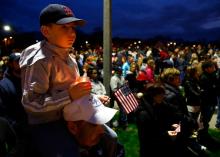 I hear it over and over again both during my conversations on the road, and as I skim the headlines each day, that we are in a battle for the common good.
I learned about the Boston bombings as my plane landed in Portland, Ore., traveling for an 18-city book tour to spark a conversation on "the common good." As I read and watched more about the tragedy, there unfolded such a stark and brutal contrast between the explicit intent to kill, hurt, and maim others, and the actions of those who rushed toward the blast, risking their own lives to help the wounded. One act of vicious violence was aimed to destroy the common good and create a society based on fear. The others displayed the highest commitment to redeem the common good and insist that we will not become a nation based on fear, but on mutual service and support.
When real or imagined grievances combine with rage, religious fundamentalism, political extremism, mental illness, or emotional instability, we lose the common good to dangerous violence, fear, and deep distrust in the social environment. But when grievances lead to civil discourse, moral engagement, and even love and forgiveness, different outcomes are possible.