billy graham crusade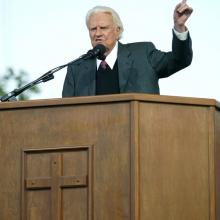 We gathered at Billy Graham's alma mater over three days to explore his ministry's place in American history and chronicle its meaning for the future. It was a fascinating conversation, and poignant, too, as Graham struggles with poor health at home in Montreat, N.C., far from the limelight he once commanded.
But as scholars and admirers here in suburban Chicago added to the growing conversation on Graham's legacy, a question hovers: How many people younger than, say, 60 are listening?
When I found out A Night of Hope with Joel & Victoria would be playing in New York City, at the brand new $1.5 billion Yankee Stadium, I knew I had to attend this concert. (Sorry, but if you charge admission, I no longer call it a worship service).
Prior to the show, Joel and Victoria Osteen held a 15-minute press conference.