Batman shooter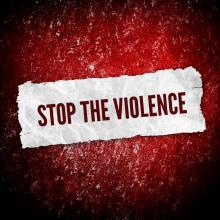 I had a veteran friend once tell me, "The biggest lie I have ever been told is that violence is evil, except in war." He went on, "My government told me that. My Church told me that. My family told me that. … I came back from war and told them the truth—'Violence is not evil, except in war… Violence is evil – period.'"
Every day it seems like we are bombarded with news stories of violence—a shooting in Colorado, a bus bombing in Bulgaria, drones gone bad and the threat of a nuclear Iran, a civil war in Syria, explosions in Afghanistan and Iraq.
The recent cover story of Time magazine was "One a Day," showing that soldier suicides are up to one per day, surpassing the number of soldiers who die in combat. The U.S. military budget is still rising—more than $20,000 a second, more than $1 million a minute, spent on war even as the country goes bankrupt.
Our world is filled with violence—like a plague, an infection, a pandemic of people killing people, and people killing themselves. In my city of brotherly love, Philadelphia, we have nearly one homicide a day—and in this land of the free we have more than 10,000 homicides per year.
This week President Barack Obama called the shooting in Colorado "evil." And he is right.
But perhaps it is also time that we declare that violence is evil, everywhere—period. It's obvious that killing folks in a movie theater is sick and deranged, but the question arises: is violence ever okay?
Worshippers in Aurora, Colo., rocked by the July 20 mass shooting flocked to church Sunday, seeking solace within their faith communities.
"People are saying that if there's a day to go to church, this is it," said Allie McNider, associate pastor at Mississippi Avenue Baptist Church, about a mile from the movie theater where police say James Holmes opened fire, killing 12 people and wounding 58 more. "They're looking for a sense of something bigger than themselves."
Meanwhile, in Rancho Penasquitos, Calif., a San Diego suburb and the hometown of alleged shooter James Holmes, Pastor Greg Hoffmann prayed with his congregation at Penasquitos Lutheran Church, where the Holmes family are members.
Hoffman spoke of the pain and shock the church community was feeling. He preached on the verse from Mark in which Jesus tells his disciples to "come with me to a quiet place."