balance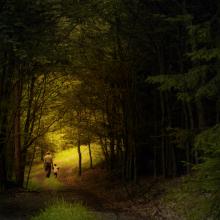 When you hear about stewardship in church, you probably think of your checkbook. Stewardship is the term we use to talk about financially supporting our churches and organizations. But another holy use of the word involves being stewards of creation.
When I hear the word stewardship, I feel the crunch of snow and branches under my feet. I see the trees and paths of the woods owned by my parents' best friends, where I spent much of my childhood hiking, hunting, skiing, picking apples, and feeding chickadees out of the palm of my hand. It's one of the places where I gradually heard my calling to work for the care of creation. And the word stewardship transports me to a specific day in my childhood, walking in the woods with my dad's best friend, Leo, when he pointed to a tree and said he would have to take it down.
How could he kill a tree? I hassled him; I got indignant. I said that nature should be left alone to do her thing. But Leo explained that I was wrong — he managed the land. It wouldn't be just fine on its own; rather, it needed his careful eye to manage the trails, cut down sick trees, and hunt deer.
Let the healing begin (maybe next week).