The Awakening of Hope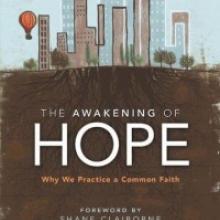 Jonathan Wilson-Hartgrove is a modern-day sage. A leader in the New Monastic movement, Hartgrove offers New Monastics and the church at-large profound lessons revealed through the practices of catechism — the spiritual disciplines of Christian faith.
Tempted by the powers of isolation, consumerism, pride, and violence this generation is drawn to the calls to community and simple living for reasons it hardly knows. Wilson-Hartgrove explains the "why."
Through the stories of well-established intentional Christian communities, Wilson-Hartgrove offers windows into the catechisms of the Christian faith. Communion and the Eucharist, fasting, integrity, community, non-violence, and public witness each serve as windows into much deeper philosophical and theological discussions.