assualt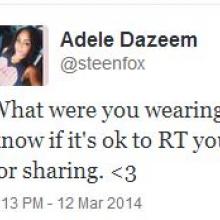 Pink princess pajamas. Jeans and a t-shirt. Sweatpants and a baggy sweater.
When Twitter user Christina Fox (@Steenfox) asked her followers, "What were you wearing when you were assaulted?" some answered with these clothes.
Fox prompted the question after reading a story about a 60-year-old woman who was raped by her grandson.