Aspen Ideas Festival
Identifying as a "progressive Christian and Democrat," Sen. Chris Coons of Delaware offered what he believes is the answer to hyperpartisanship and a deadocked Congress: prayer.
Coons, speaking at the Aspen Ideas Festival on Monday, pointed to the Senate's weekly prayer breakfast he attends each week as something that gives him hope for progress through partisan division. He said about two dozen people of all faiths gather for an hour to do two uncommon things: "We trust each other and we listen ... And out of that experience has come the greatest opportunities for bipartisanship and progress that I've had in seven years."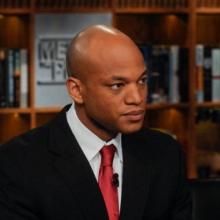 Last summer at the Aspen Ideas Festival I had the opportunity to hear Wes Moore speak. Moore is an investment banker, a former Rhodes Scholar, and a former aide to Condoleezza Rice. He is a young black man from Baltimore who rose above the drugs, crime, and poverty that so often lead others in his demographic down another path.
In the same year that Moore was named a Rhodes Scholar, he saw an article in the Baltimore Sun about a man who was convicted of armed robbery and murder of an off duty police officer and sentenced to life in prison without parole. This man not only had the same name, Wes Moore, but was also about the same age and grew up in the same area of Baltimore in a single-parent household.
Wes reached out to this other young man in prison and eventually they came to know one another. Moore wrote a book, The Other Wes Moore: One Name, Two Fates, about their stories.
I read the book shortly after hearing Wes speak. What makes it remarkable is the parallel examination of both of their narratives, giving the reader an opportunity to identify the points when their lives begin to diverge.