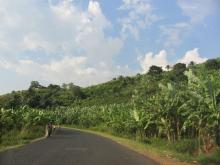 The Ugandan Parliament has re-introduced a draconian anti-LGBT bill that has received widespread international criticism. Under this bill, first introduced in 2011 and re-introduced earlier this year, the government would prescribe the death penalty to all LGBT people and those that provide them with housing and resources.
The bill is expected to pass before the end of this year; its champions call it a "Christmas gift to the Ugandan people."
In the face of this hatred, I am glad to work for Sojourners, which earlier this year signed on to the following statement along with other Christian groups:
Our Christian faith recognizes that all human beings have been created in the image and likeness of God, and Christ teaches that we are to love our neighbors as ourselves. All acts of bigotry and hatred betray these foundational truths … Regardless of the diverse theological views of our religious traditions regarding the morality of homosexuality, the criminalization of homosexuality, along with the violence and discrimination against LGBT people that inevitably follows, is incompatible with the teachings of our faith.