Andrew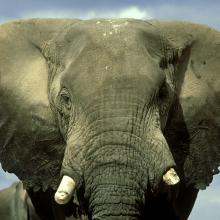 Driscoll appreciates strong males. He respects them.
As I understand it, in India where rural people live and work with elephants, they've come to learn things about elephant behavior. Like humans, elephant calves stay close to their mothers side longer than most other animals. When young male elephants are finally sent forth on their own, they sometimes form wild gangs that terrorize villagers with their rampages.
The villagers have learned that introducing a fully grown bull elephant into the gang of hoodlums mellows them out almost instantly. They thrive when there's a large male around who they all know could kick their butts (that's the paradigm that Driscoll operates out of). It's not really about the potential to kick-ass. It's that they respect a fully grown mature male and know that they can learn much about how to socialize from being around him. They learn patience, self-control, and they blossom into maturity.
I would submit that
we need to introduce the Christian equivalent of some bull elephants into Driscoll's village where he is on a rampage.