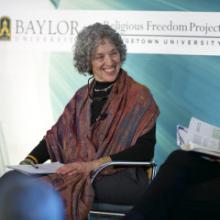 Leaders of Christian and Jewish international aid groups say their efforts are often met with twin suspicions: That the real purpose is to proselytize; and that a religious message is tied to material aid.
Not so, say Pastor Rick Warren, who has led Saddleback Church to donate millions of dollars and hours of labor in Africa, and Ruth Messinger, president of American Jewish World Service.
The two were keynote speakers at a discussion on "Proselytism and Development in Pluralistic Societies," sponsored by the Berkley Center for Religion, Peace & World Affairs, at Georgetown University.
Both acknowledged at the March 4 event that their motives — "living like Jesus," said Warren, and "pursuing justice," said Messinger — are questioned.