American Jewish Community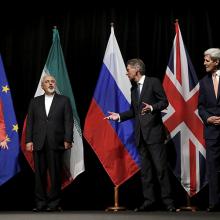 For the Jewish people, the pursuit of peace is a fundamental religious duty. Our tradition implores us to "seek peace, and pursue it" (Psalms 34:14); unlike other commandments that obligate us when they come our way, we must pursue peace at every opportunity.
The deal with Iran seeks to prevent Tehran from obtaining a nuclear bomb while also reaffirming the United States' commitment to the pursuit of peaceful foreign policy solutions. We are not naive about the dangers of Iran's nuclear program and regional ambitions; we embrace the agreement precisely because it is our best available option to ensure the security of the United States, Israel, and the entire world.
In light of this agreement, we are deeply concerned with the mistaken impression that the current leadership of the American Jewish community is united in opposition to the agreement. Despite what has been portrayed, these leaders do not represent the majority of Jewish Americans who support Congress' approval of this deal. We, along with many other Jewish leaders, support this historic nuclear accord by the world's most powerful nations and believe it is our best hope of preventing a nuclear-armed Iran.
When Sally tells Jimmy that he's going to hell for believing in a false religion, is that Sally exercising her First Amendment right to free expression, or is that Billy getting bullied?
A broad coalition of educators and religious groups – from the National Association of Evangelicals to the National School Boards Association – on Tuesday (May 22) endorsed a new pamphlet to help teachers tackle such thorny questions.
Authored chiefly by the American Jewish Committee, "Harassment, Bullying and Free Expression: Guidelines for Free and Safe Public Schools," contains 11 pages of advice on balancing school safety and religious freedom.