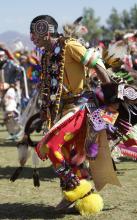 The Native American narrative remains largely unknown in U.S. majority culture. It is glaringly absent in most school curriculums, and remains unheard in modern dominant politics. One crucial stream of Native culture I've recently come to learn about is the destructive legacy of Christian-run Indian boarding schools.
What began with genuinely good intentions (in those days, "European" norms were viewed as superior, "sameness" seemed like a good idea, and the threat of legitimate genocide lingered over tribes) rapidly deteriorated, with Christian boarding schools becoming institutions of forced assimilation and abuse.
Beginning in the 1800s and lasting into the 20th century, Native children were forcibly removed from their families and sent to live in boarding schools. Finding the task of "civilizing" Native adults beyond its ability, the federal government delegated the task of "normalization" to churches, which could educate, or, inculcate, children from a young age.