absentee ballot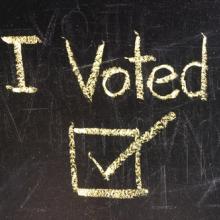 For the next 12 days it's all about the ground game. With most voter registration deadlines passed, the fight against voter suppression has shifted focus from registration drives to calling banks, car-pools, and calls to vote early.
Bishop Dwayne Royster is Executive Director of P.O.W.E.R. (Philadelphians Organized to Witness Empower and Rebuild), a 37-member interfaith organizing coalition in Philadelphia. Royster is also lead pastor of Living Waters United Church of Christ in Philadelphia. In a recent interview Bishop Royster explained just how vital the fight against voter suppression has been for the people of Philadelphia.
According to a study conducted by the Pew Charitable Trust's Philadelphia Research Initiative, Philadelphia is the 6th poorest large city in America with a poverty rate that held at 25 percent in 2011. The unemployment rate is higher than the national average at 11.5 percent, and nearly half of all high school students engage in a fist fight at least once in the course of a year. Tensions are high in the City of Brotherly Love.