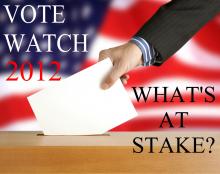 [Editor's Note: This is the first article in an election season blog series called Watch the Vote.]

In today's hyper-politicized climate, all of the hoo-hah about voter suppression can sound like a bunch of partisan pandering on both sides.
If you're just tuning now, it can easily look like Democrats are whining and crafting conspiracy theories over something that really won't matter in the end, anyway — so why waste your breath?
Or, for the even more cynical, sure, it might matter, but there's nothing we can do about it — so again, why waste our breath?

Here's why. Check this out.