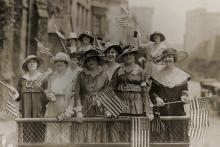 I've done it in booths at a New York City public school, and the 92nd Street Y. I've done it on a small, enclosed counter in DC. But you never forget the first time you voted.
My first time at the polls was not particularly spectacular — it was an off-year for elections, so I voted on a referendum. Since then I have voted every year except twice. Once was on another off-year — I was in grad school for public administration and had to finish a statistics assignment. And for the other, I'd just become a DC resident, too late to vote in the special election that year.
In case it's not obvious, voting is important to me, and I'm kind of a dork about it. And when I consider the hard fight for women's suffrage, I feel that the best way to honor the women who fought hard for that right is to responsibly exercise it.
So it's disheartening to hear women say that they don't really pay attention to politics or take the time to vote. And as a DC resident whose interests are determined by the legislators of other states, it's hard to watch anyone take for granted their right to vote.