FOLLOWING JESUS IS a mindset, a way of thinking as much as a way of being. In fact, one is not able to "be" a Christian without having a "change of mind," a metanoia, the Greek word used in the New Testament for "repentance." This change of mind or repentance, however, does not come from debates or argument. Rather, becoming like Christ is trying to figure out what it means to be one of his followers. "Lord, I want to be a Christian in my heart," says the "Negro" spiritual. Depending on the version, the songwriter chooses to "be more loving," "be more holy," and "be like Jesus" for the verses that follow.
It may be fitting that we do not know who wrote this song or where it originates, except from the hardscrabble lives of enslaved people in the U.S. Imagine with me what it might have been like to sing these words under such suffering and brutal conditions in order to uphold a horrific system. But instead of reflecting passive acceptance, these words might have been a means to shore up enslaved persons' souls so they could live antithetically to that system. It certainly works that way for me, in the face of death-dealing encounters and events. This month's texts give us an opportunity to not only sing this song, but to meditate on it and do our best to practice it. Maybe we will become more Christian in our hearts and in our actions. We will have to want it.
October 4
Sharing in the Suffering
Exodus 20:1-4, 7-9, 12-20; Psalm 19; Philippians 3:4-14; Matthew 21:33-46
WHAT DOES IT mean to share in Christ's suffering? I've bandied this question around in my mind for some time as I have pondered the Philippians text. Paul, of course, had shared in persecuting early believers before he became a convert himself. Trying to make sense and meaning of that suffering and people's losses must have been a constant project for those trying to encourage the early church. Here, Paul takes on what it has meant to "lose everything." His pedigree is impeccable; his credentials unassailable; his attendance to the law, meticulous. And yet, none of that matters to him after he committed to "knowing Christ Jesus" (verse 8). Those things—status and power—are on the trash heap as far as he is concerned. But what comes in its stead is suffering, even as he longs to "know Christ and the power of his resurrection" (verse 10). For Paul, you can't get to the power of the resurrection without sharing in Christ's suffering. But what does that mean?
Read the Full Article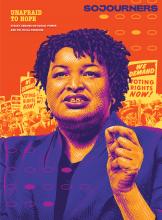 ​You've reached the end of our free magazine preview. For full digital access to Sojourners articles for as little as $3.95, please subscribe now. Your subscription allows us to pay authors fairly for their terrific work!
Already a subscriber?
Login