IF THE MAJORITY ruled, Stacey Abrams would be governor of Georgia. Abrams officially lost the 2018 gubernatorial race by fewer than 55,000 votes—after her opponent, Georgia secretary of state (and now governor) Brian Kemp, improperly purged more than 340,000 voters from the state's rolls. Lawsuits also charged Kemp, who oversaw his own election, with disallowing the registrations of 50,000 Georgians—less than 10 percent of whom were white—due to minor discrepancies in the spelling of their names.
Abrams, who now works to ensure free and fair elections through her voting-rights group Fair Fight, argues in this issue that the problematic Georgia race stands as a warning about those who are attempting to use similar corrupt and immoral tactics in this fall's presidential election. Ensuring that people can exercise their right to vote, as Adam Russell Taylor explains in his column, is a test of the moral claims of our faith as much as it is crucial for the health of our democracy.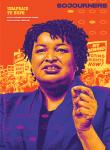 This appears in the September/October 2020 issue of Sojourners
Got something to say about what you're reading? We value your feedback!