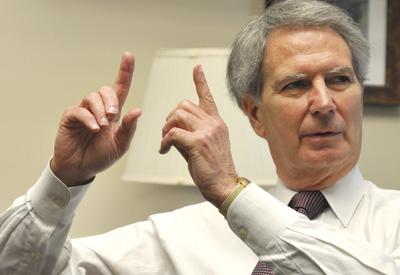 Rep. Walter B. Jones sits in his office in Washington, D.C., surrounded by photos and memorabilia of fallen U.S. soldiers. Though he voted in 2002 to authorize U.S. war against Iraq, the conservative Republican from North Carolina soon came to believe that the wars in Iraq and Afghanistan violated his Christian principles. Jones, who has become one of the wars' most outspoken critics, reached across the aisle to coauthor, with Rep. Jim McGovern (D-Mass.), the McGovern-Jones Amendment, introduced in July 2010, which calls for a clear timeline for the withdrawal of troops from Afghanistan. Sojourners editor-in-chief Jim Wallis talked with Jones this summer in his Capitol Hill office.
Jim Wallis: Rep. Jones, I admire your political and moral courage for speaking out against the wars in Iraq and Afghanistan. Tell me about your journey from voting to go into Iraq in 2003 to where you are today.
Rep. Walter B. Jones: When I walked to the floor of the House the night that President Bush asked Congress to give him the authority to go into Iraq, I did not feel good about my vote. But because Bush, Vice President Dick Cheney, Colin Powell, Condoleezza Rice, and Gen. Richard Myers had been briefing both parties, I voted to go into Iraq.
God was being challenged in my heart by my evil desire to get re-elected. I felt that the military retirees among my constituents -- Camp Lejeune is in my district -- would believe the misinformation [about the alleged need to go into Iraq], and I was not strong enough to vote my conscience.
About two weeks later, I got a call from Rep. Elton Gallegly from California. He said one of his constituents, Marine Sgt. Michael E. Bitz, was killed in Iraq, and that Bitz's wife, Janina, and family were still at Camp Lejeune. Michael Bitz's funeral was that Saturday. It was an outdoor service. The first thing I saw was a flag-draped coffin with a Marine at the head and foot of the coffin. At the funeral, they sat me down beside Janina. The Baptist minister got up and talked about Janina and Michael being strong in their faith. Janina got up and read the last letter Michael wrote the night before he was killed. In the letter he professed his love for Jesus Christ. He wrote, "I do not know what God has in store for me, but I know, either in heaven or on Earth, we will be together again."
God wanted me to take away from that funeral service the pain of a family that lost a loved one for going into a war that never had to have been fought. I realized my mistake and my weaknesses for not voting my conscience.
But we had already gone into Iraq. How did you start to act on your newfound convictions?
In 2003, I started writing letters to the families and extended families of people killed in the war. All told, we've written well over 10,000 letters to families and extended families now. This is my penance. God has given me absolution now, because I have shown God that I have asked forgiveness. I am still signing the letters, but I'm at peace with my mistake of trusting man more than God.
You are a conservative Republican. How did your party react when you came out against the war?
The year after I came out against the war, the Democrats won the majority. Duncan Lee Hunter, who had been chair of the Armed Services Committee, became ranking [minority] member. After we lost the majority, I should have been the ranking member of the readiness subcommittee, but because of my position, Duncan came to me and said, "I cannot recommend you for ranking member because I know you will vote with the Democrats to get out of Iraq." But you know, I think I'm happier not being in that position, and I think God's happier with me, quite frankly.
You recently reintroduced the McGovern-Jones Amendment, calling for an accelerated timeline to remove troops from Afghanistan. How did it feel to get 204 votes, with 26 Republicans voting in favor of the amendment, up from 162 votes last year?
I was tickled, believe me.
Is there any progress in Afghanistan?
No, sir. President Obama and [then-Secretary of Defense] Robert Gates are talking about being in Afghanistan until 2014, or 2015. Well, today on the floor, I said, "Afghanistan: Get out."
In December, I read about an Army colonel who was quoted in The New York Times saying that the training of Afghans to be police officers and soldiers was going much better. Well, that's not true. There are 1,400 tribes in Afghanistan, and they don't want to be us. There's no way. They're Muslims; there's nothing wrong with Muslims, but they don't want to be Christian. I asked a general about the [colonel's] quote, and he wrote, "Continued belief that we can train the Afghan army to be effective in the time we have ... is nonsense. The vast majority cannot even read. They are people from the villages, hooked on drugs, illiterate, and undisciplined. The South Vietnamese soldiers were much better trained, and they could not stem the tide ... What do we say to the mother and father or the wife of the last Marine killed?"
The debate about war is usually about political sound bites, not human faces. How do we get people to focus on the human cost of war?
If half the American people could visit Walter Reed [Army Medical Center], we would've been out of Afghanistan five years ago. If I'm a true pro-life member of Congress, then isn't that 18- or 19-year-old boy or girl who gave their life in Iraq or Afghanistan part of God's plan too? I've been to Walter Reed so many times, and I've seen 22- and 23-year-old men who will never be able to father a child; that part of their body is gone; I've seen soldiers and Marines under 24 who have no body parts below their waist. [The cost of] taking care of these young men and women is going to be astronomical.
How does your faith inform your work today?
I cast my votes on my faith. I didn't say that in 2003 or 2004, but I think God guided me on this journey. I think God wanted to humble me, quite frankly, for not trusting him on that vote. God wanted me to come back to God because I didn't listen. I needed to understand that the world I live in is a world of arrogance and Christ was a man of humility, and in the world of arrogance you will accomplish nothing with arrogance. You have to be humble.
How can the faith community contribute to your efforts to end the war in Afghanistan?
The faith community needs to start speaking out. The church needs to be the leadership, and they're not. When the government is cutting programs for children and senior citizens, you ought to speak out about the corrupt government in Afghanistan, and ask, Why do we continue to allow Americans to die in Afghanistan while cutting funding for children and senior citizens? It doesn't make any sense. In all honesty, I don't understand why the church has been so quiet on the issue of Afghanistan.
What do you want to say to the American people about ending this war?
I want the American people to get engaged. Fewer than 1 percent are fighting this war. That means that 99 percent of the people not involved in this war won't get involved. I think the American people have to get engaged because Congress responds to the American people. But if they don't think the American people are watching or listening, they will keep going down the path they're going down right now.