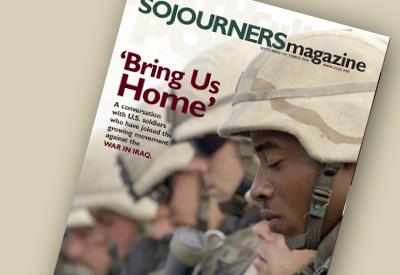 St. Gabriel the Archangel Catholic Church is in a predominantly African-American part of New Orleans that flooded badly when the levees broke after Hurricane Katrina. The neighborhood includes a historically white area called Gentilly Woods (now about half black) and Pontchartrain Park, the first subdivision for middle-class African Americans to be built in New Orleans. St. Gabriel's parishioners are predominantly black, mostly homeowners, but modest ones.
St. Gabriel's pastor, Monsignor Douglas Doussan, is a 71-year-old New Orleans native, co-founder of the New Orleans chapter of Pax Christi, and a leader in All Congregations Together, a church-based community organization affiliated with the national PICO network (formerly the Pacific Institute for Community Organizing).
When the levees broke, Doussan said, his parish buildings took 5 to 8 feet of water. Some houses in the area took 11 feet. Then, Doussan said, "The water stayed for three weeks." No one could enter the neighborhood for another two weeks because of health and safety concerns.
When he finally went back, two things impressed him most. First was the sediment from the flood waters. "There was a thick film of dry, gray mud on everything," Doussan said. "The flood water had dead bodies in it, toxic chemicals, raw sewage; the sewage plant was broken when Katrina hit … and this mud covered everything—cars that were left behind, furniture in houses, all the inside of the church. It was all over the streets. The streets crackled with it when you drove over them."
"The other thing you noticed," he recalled, "was the total silence. No children playing, no other cars, no birds or squirrels, no talking. None of the sounds of life." At that point, the priest was near despair. "I just thought it was impossible for my parish to be brought back to life. That was a real low point, in early October. Then a priest friend in Baton Rouge said, 'Why don't you let [my parish], St. Jean Vianney, come clean up St. Gabriel?' And that's what they did. Three months after Katrina hit, we were having Mass every Sunday in our church."
ON THE FIRST anniversary of the Katrina disaster, that's the story you hear from people in New Orleans. One year ago, government failed at every level. Today, with half the population still dispersed, the prospects for the city's future are decidedly mixed. But even people who lost everything can hold on to hope, because other people, often from faraway places, stepped up to do for them what they could not do for themselves.
"Volunteers are still coming," Doussan told me in late June. "Just this week St. Gabriel had 200 volunteers from seven parishes in Cincinnati, Colorado, Michigan, Minnesota. … They cleaned out 26 homes and put up drywall and insulation in three others." New Orleans Catholic Charities reports that, in recent months, 3,413 volunteers have given 93,873 hours of service and gutted 473 flood-damaged homes.
Gutting the homes—removing all the ruined possessions, drywall, plaster, or paneling—is the traumatic first step to making flooded homes habitable. The work is extremely dirty and labor intensive. And, most of the year in New Orleans, it is incredibly hot. Older homeowners can't attempt the job. Even the able-bodied find it demoralizing to wade through all the ruined signs of their former lives.
Mary Baudouin, another lifelong New Orleanian, is on the staff of the New Orleans Province of the Society of Jesus (the Jesuits). Katrina flooded the one-story, Mid-City house she shared with her husband and three children and sent them shuffling from relatives to a church retreat center to an unfurnished trailer and most recently to a Jesuit Volunteer Corps house. "The true gift of this experience," Baudouin says, "has been the thousands of young people who've come here and gutted houses and listened to our stories. Some college group gutted our house for us, for nothing, and we were never even able to find them to thank them."
Douglas Doussan has told his congregation, from the pulpit, "Anybody who wants to come back, we'll help you come back. We'll provide volunteers to clean out your house. We'll buy insulation and Sheetrock." And so far, thanks to the kindness of strangers, the church has been able to keep that pledge.
"COMING BACK" is one of the big questions for New Orleans one year after Katrina. Only half the city's population has returned so far, and no one is sure how many of the dispersed will eventually come home. This is a controversial question because those who've returned are, on average, whiter and wealthier than the city's pre-Katrina black majority.
"Pre-Katrina we had about 560 people at church every week, now we average about 200 to 250," Doussan said. "Most of those are driving in from outlying areas. Last Sunday I asked how many are living in your houses, and only about five raised their hands. Another 10 are living in trailers on their property. Some people are waiting to see what will happen to the city, and some have definitely relocated elsewhere." Right after Katrina, St. Gabriel's staff used the parish Web site to maintain contact with what it is calling "St. Gabriel Parishioners on Pilgrimage." They found 350 people scattered to 22 states.
That's a fairly typical experience. In the current issue of Blueprint, the publication of the Twomey Center for Peace through Justice, Loyola University New Orleans law professor Bill Quigley reports that FEMA received emergency assistance applications "from 18,700 zip codes, in all 50 states—half of the nation's residential postal zones." A recent edition of The New Orleans Agenda, an alternative online newsletter edited by a local African-American political consultant, Vincent Sylvain, noted that, "Thousands of Katrina evacuees were shipped to more than three dozen states with no provisions for return—equivalent to a one-way ticket. Many Katrina evacuees are running short of funds. No money translates into no return to their homes and neighborhoods."
The same issue of the Agenda reported that the New Orleans diaspora put on 504 Mardi Gras events all over the country, with Mardi Gras Indians, the historic heart of black Mardi Gras, marching at an Atlanta nightclub.
Michael Cowan, director of the Lindy Boggs National Center for Community Literacy at Loyola University, has long been active in, and written about, local community organizations. "Many poor people remain dispersed, and it seems doubtful that they will be able to return any time soon because low-income housing is so scarce." But, Cowan observed, "We have also lost many households with two well-educated earners in their 30s and 40s and young children. This is happening across racial lines. People who can put roots down elsewhere are often deciding that the uncertainty of New Orleans' future includes risks that they need not take."
One of the greatest risks is the prospect of future flooding. On June 1, the beginning of the 2006 hurricane season, the Army Corps of Engineers released its long-awaited, 6,000-page report on the failure of its levees after Katrina. The Corps admitted what independent experts had been reporting for months: The levees broke because of poor design and construction. According to the Corps report, four of the levee breaks, which caused two-thirds of the flooding, were the result of foundation failures. Those were caused by engineers' failure to account for the poor soil quality and sinking land underneath New Orleans—facts of life well known to local homeowners. Like the foolish man's house, the levees were built on sand.
"We've had a catastrophic failure," Corps chief Lt. Gen. Carl Strock told a press conference. The report found that, in addition to the foundation problems, New Orleans' system of levees and floodwalls had gaps that were the result of under-funding in recent decades. According to AP, the report urged the Corps to look at potential social, environmental, and cultural losses, "without reducing everything to one measure such as dollars."
The Corps of Engineers report was met by resounding silence in official Washington. Meanwhile, New Orleans entered another hurricane season with repaired levees that, apparently, replicate the problems that caused the flood.
In February, according to The Washington Post, a group of engineers funded by the National Science Foundation inspected levee repair sites around New Orleans. Robert Bea, an engineering professor for the University of California at Berkeley, saw workers using sandy soils in a levee. He took samples and tested it in his lab. "It was the loosest, most erodible material we had seen," he told the Post. Louisiana State University professor Ivor Van Heerden, who has led Louisiana's investigation of the flood, saw another stretch of levee being rebuilt on white soil the consistency of powdered sugar, mostly sand and crushed seashells. He told the Post, "It's the last thing you'd want as a base for a levee. The old levee was made of this same material, and it failed."
WHATEVER ELSE may divide them, New Orleans residents are united in their conviction that the city needs and deserves a massive national infrastructure investment that will protect it from any conceivable storm. But the Bush administration has proposed only rebuilding the protections to pre-Katrina levels. The current plan "privatizes" flood protection, by forcing residents whose houses suffered more than 50 percent damage to elevate their homes as a condition of receiving federal assistance.
According to Douglas Doussan, "They are telling people that in order to rebuild on their current property, they will need to elevate their homes to three feet above sea level. But it flooded eight feet. A member of my parish had a home that had flooded repeatedly before, so he had already spent $65,000 to raise it up four feet. When the levee broke, he had four feet of water in it."
If America invests in the kind of levee system that, for instance, protects the Netherlands, then all the people in New Orleans could return to all of their neighborhoods, and public, private, and nonprofit developers could confidently begin housing them. If we don't adequately protect New Orleans, we increase the odds that future development will be focused on the high and dry areas, which include the French Quarter, the Garden District, and other relatively affluent tourist destinations, but leave out, for instance, the Treme neighborhood, where American popular music was born, and St. Gabriel parish, among many others.
The problem is that, after decades of neglect and low-balling, building an adequate flood protection system for New Orleans, which would include restoration of the wetlands below the city, will be expensive. The best estimates run to $32 billion, spread over several years of work. That's a lot. But it's just a little over half of this year's $57 billion federal appropriation for highways, and less than one-fourth of the $160 billion a year that the American Society of Civil Engineers says the federal and state governments spend annually on infrastructure. In other words, it's a big job, but America could do it.
"We need levees rebuilt to provide protection from a category 5 storm," Douglas Doussan insisted. "Don't put the responsibility off on individuals and tell them to elevate their houses. This nation needs to protect New Orleans, yes, because of what it represents as a cultural resource, but also because this city, with its port and its oil and gas supplies, is a national resource that deserves national commitment." n
Danny Duncan Collum, a Sojourners contributing editor and author of Black and Catholic in the Jim Crow South, teaches writing at Kentucky State University in Frankfort, Kentucky.