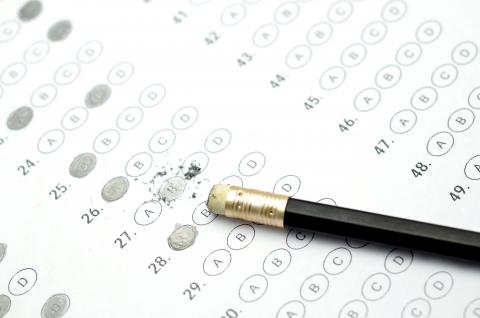 IN 1961, President Eisenhower warned us about the threat to democracy posed by what he dubbed the military-industrial complex. Today we need an Eisenhower to sound the alarm about another threat to our capacity for self-rule: the educational-industrial complex.
The military-industrial complex gained power because it promised to protect Americans from the spectral threat of Soviet domination. The educational-industrial complex has arisen in response to the fear of economic domination by better-educated populations. But the policies it promotes could leave our population increasingly unable to think for itself or counter the saturating influence of propaganda—whether commercial or political.
What I mean by the educational-industrial complex is that vast network of companies and institutions with a vested interest in education policy: the testing companies, textbook publishers, software developers, technology peddlers, "for-profit" schools, and the armies of high-powered "consultants" that circle U.S. schools like vultures picking the last dollars from the emaciated bones of their budgets. All of these players push an agenda of standardized testing and skills-based curricula that is crowding out both content knowledge (outside of science and math) and the slow, labor-intensive process of reading and discussion that produces the capacity for critical thinking. In the end, we'll have a deeply ignorant and complacent people who will do as they're told and buy what they're sold.
I see this narrowing of educational horizons even in my little corner of the higher education world. At our small state university, faculty members are regularly subjected to lengthy presentations from hired consultants deployed to update our pedagogy—or at least our ed-speak jargon. For instance, last year all teaching faculty had to submit measurable "Student Learning Outcomes," unfortunately abbreviated "SLO," for every course we teach. When most of our "outcomes" were deemed "unmeasurable," a SLO consultant was loosed upon us. From his presentation I learned that an "outcome" was really the same thing that, a decade ago, another consultant called learning "objectives." In fact, in the middle, our SLO guy started using the two terms interchangeably, leading me to suspect that he had simply changed the jargon in an old presentation and missed a few spots when he did.
The rage for "measurability" and "quantification" seems to be the nuclear arsenal of the educational-industrial complex. But our most important educational experiences are immeasurable. They are the "aha" moments when, for example, we apprehend the ties that bind us to all other humans, or recognize the big questions of meaning and purpose that lay beneath all our day-to-day political catfights. It's hard to quantify those experiences. But you know them when you see them.
A few years ago, I taught a special topics class about 20th century U.S. autobiography. We had read Richard Wright's Black Boy, The Autobiography of Malcolm X, and President Obama's Dreams from My Father and were halfway through The Long Loneliness by Dorothy Day when, skimming through the student reading journals, I came upon this passage from a young man who generally wore his cap backwards and looked a lot like Spike Lee's character Mookie in Do the Right Thing:
Reading these four books has made me realize how important liberal arts education is ... I just started reading this book, and I can feel it transform my mentality ... I'm starting to understand myself better through reading. It's this overwhelming feeling of "I knew it!" or "I was thinking the same thing!" It ... makes me want to run and tell somebody about the salvation of learning. It really is a beautiful thing.
But then again, maybe young black men with "transformed mentalities," who feel the thrill of their own aroused intellects, isn't what the educational-industrial complex wants. Maybe that's what it fears. 
Danny Duncan Collum teaches writing at Kentucky State University in Frankfort. He is the author of the novel White Boy.
Image: test score sheet, Pimnana_01 / Shutterstock