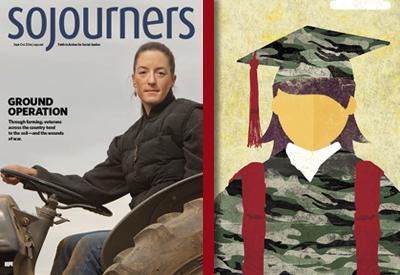 SUMMER IS THE season for high school football practice. Two years ago, the players at Central Catholic High School in Portland, Ore., got a different kind of coaching, brought in by head coach Steve Pyne. For the first time, U.S. Army recruiters would serve as volunteers to run the football team through their strength and conditioning paces—helping them prepare for the annual "Holy War" matchup against archrival Jesuit High School.
According to an article in the U.S. Army's monthly Recruiter Journal, the Army "footprint" for the big game included a Humvee parked outside the stadium and a pre-kickoff event in which local recruiters placed "unit patch decals from various Army divisions" onto players' helmets.
"Not once at practice did we talk about the Army," said one of the recruiters. "It wasn't about the Army. It was about how we can integrate ourselves into the community in a way the community will accept us and not feel like we are a threat."
In recent years, the Pentagon's military recruiting capabilities have experienced a quantum leap—including unprecedented access to Christian high schools. Not only are military recruiters using football to gain entry into parochial schools, but they are increasingly relying on military testing in schools to access students' private information without parental consent.
Over the past 10 years, the New York Civil Liberties Union, Rutgers School of Law, Child Soldiers International, and other organizations have raised troubling questions about military presence in schools. In Christian schools, the level of suspicion ought to be much higher, since the stakes are not only ethical but spiritual. "Since war is about the mass infliction of death and suffering on children of God," wrote Catholic Bishop John Michael Botean in 2003, "Christians can enter into it and fight in it only if the war in question strictly meets all the criteria of the just war theory, and only if these same standards are likewise meticulously observed in the course of fighting the war." What's more, the critical thinking skills—so often hailed by educational progressives—that are needed to make these essential moral decisions may be undermined by what theologian Reinhold Niebuhr decried as the "military mind," which "makes unthinking obedience" the greatest good in the "hierarchy of virtues."
HOW DID WE get here? A little known provision in the 2001 No Child Left Behind act requires "Armed Forces recruiter access to students and student recruiting information." It mandates that military recruiters have the same access to high schools as is generally provided to colleges. Prior to this, according to the Pentagon, high schools had barred recruiters from their premises on more than 19,000 occasions in 1999 alone. While some high school administrators likely refused recruiters' requests because they believed it was inappropriate for educational institutions to promote military service, many contend that the Pentagon's numbers were grossly exaggerated. And yet, based largely on these claims, the provision was added to NCLB to open up a treasure trove of data for the military.
In addition to access to high school students' names, addresses, and telephone numbers, the Pentagon is also able to use data brokers, social media analysis, and information purchased from yearbook and class ring companies to provide military recruiting services with a virtual tour of what's going on in Johnny or Jane's head and, if there's a boyfriend or girlfriend, what he or she thinks of the decision regarding enlistment.
Still, recruiters have had a much harder time reaching the 3.5 million students who attend U.S. parochial and religious schools, what one unclassified Army document describes as an "untapped market." As a result, recruiters have honed creative ways of reaching this population.
The example from Central Catholic in Portland is not uncommon. In the 2009-10 school year, one Milwaukee recruiter used his 15-hour-per-week job as a volunteer coach to mentor—and eventually enlist—five football players from Pius XI High School. (Pope Pius XI, the 1930s "peace and justice" pope, would have been appalled.)
In 2009, the Army's Southern California Recruiting Battalion worked with community leaders and the marketing firm Weber Shandwick to coordinate a Catholic school outreach campaign.
In 2011, an advertising specialist at the Columbus (Ohio) Army Recruiting Battalion told the Recruiter Journal that to "penetrate parochial high schools" his soldiers participate in the St. Patrick's Day Parade. "As we go down the street with our color guard and Army-branded vehicles," he said, "we're talking to the parochial audience."
WHILE "BOOTS ON the ground" in parochial schools is one part of the military recruitment strategy, it is much more effective to get "inside the heads" of high school students. And that leads to the Armed Services Vocational Aptitude Battery (ASVAB).
The ASVAB, the military's standardized entrance exam, was developed by the Department of Defense in the 1960s. In 1968, the DOD began administering the test in U.S. high schools and, after the draft was ended, began using it specifically for military recruiting. According to the DOD, the exam brought in about 9 percent of total enlistments in the 2006-07 school year.
The ASVAB Career Exploration Program (CEP) is the innocuous-sounding version that's currently administered in about 12,000 U.S. high schools to more than 660,000 students each year. The "career test" enables recruiters to assess the intellectual capabilities, career interests, and mechanical aptitude of a student to create a precise profile. As one Army training manual noted, data obtained from the CEP "provides information you can't get from any other list."
Often the test is given at school without parental knowledge or consent. Many high schools make the test mandatory. And existing federal safeguards set in place to protect student privacy (such as the Family Educational Rights Protection Act) do not apply to these military tests.
The school-based career test is arguably the military's most effective recruiting tool. Combined with regular recruiter presence in the schools and the student contact information garnered through No Child Left Behind, the Career Exploration Program gives military recruiters the biggest bang for their buck.
In parochial and religious schools, where most students are college-bound, the test has not been as widespread as it now is in the public school system. However, our analysis of data obtained through the Freedom of Information Act shows that there were approximately 450 parochial and religious high schools (including 113 Catholic schools) administering the test to more than 11,000 students in the 2012-13 school year.
Why don't more parents, teachers, and students know about the military's role in administering the test? After examining the websites of nearly 100 such schools, we discovered that no sites clearly identified the test as a recruitment tool or mentioned that student data would be transferred to military recruiters. Instead, these websites carried upbeat promotional messages often lifted verbatim from Pentagon sources.
For instance, Mount St. Mary Catholic High School in Oklahoma City encourages students to take the test under the "College and Career Placement" section of its student handbook. Rather than accurately describing test proctors as military recruiters or DOD employees, Mount St. Mary's officials refer to them as "test administrators from the Federal Government."
At Newport Central Catholic in Newport, Ky., the test is given to all juniors every November. Last year 95 students took the test and had their test data forwarded to recruiters without parental consent.
MOST OF THE schools that administer the ASVAB don't know there's a way to give the test while also protecting student privacy. Military regulations give schools eight choices, or "options," regarding the release of ASVAB information. These range from Option 1, which permits results to be released to military recruiters seven days after being mailed to the student, to Option 8, which is the only one that protects student privacy and prevents data from being delivered to recruiters.
Since school officials are often unaware that the different release options exist, and because recruiters aren't going out of their way to tell them, grassroots campaigns have sprung up across the country to raise the alarm and press for change.
United under the umbrella of the National Coalition to Protect Student Privacy, which offers a searchable database of schools that administer the test and other resource material, these activists focus their public appeals around the principles of student privacy and parental consent. They support their claims with solid research, such as the set of "Best Practices for ASVAB-CEP Administration," released by Rutgers University Law School in 2013, showing that high school counselors have both legal and professional responsibilities to ensure that student test information is not automatically released to military recruiters. Additionally, a dozen state offices of the American Civil Liberties Union have sent letters warning education officials that ASVAB testing violates student privacy.
Within the last few years, more than 2,000 of the 12,000 schools that administer the ASVAB have moved to select Option 8, including all schools in two states (Hawaii and Maryland) and school districts in New York City, Los Angeles, and other major cities, despite military efforts to defeat Option 8 initiatives.
Across the U.S., Option 8 selection has increased from covering about 1 percent of total students tested in 2005 to covering 15.5 percent during the 2012-13 school year.
WHILE THERE IS growing opposition to the use of the ASVAB-CEP in public schools, religious and parochial schools have been left behind in the organizing efforts. However, Catholic schools in particular have a unique religious liberty question that can and should be raised about the military's footprint in parochial schools.
In 2001, the Vatican ratified Article 3.3 of the U.N. Optional Protocol to the Convention on the Rights of the Child on the Involvement of Children in Armed Conflict. This international commitment requires that recruitment practices involving minors must be voluntary and carried out with the informed consent of the person's parents or legal guardians. Accordingly, U.S. Catholic schools could press for religious liberty by using the Vatican's ratification of the treaty to push back on military intrusion and federal enforcement of NCLB. But when we brought this to the attention of officials at the National Catholic Education Association—a professional organization representing Catholic educators—they said that all ASVAB-related decisions rested at the individual school level.
Some Catholic schools, however, have received the message. For example, when Bishop Hartley High School in Columbus, Ohio, required its junior class to take the test in 2013, it prohibited the release of student data to recruiters by selecting Option 8. A notice on the school's website correctly states that data will be kept with the school. However, Bishop Hartley is in the minority. Nationally, only 19.6 percent of all parochial and religious school students taking the ASVAB test in 2012-13 selected Option 8.
Meanwhile, back at Portland's Central Catholic, one of its standout players was selected to participate in the annual U.S. Army All-American Bowl, a national football showcase that's been described as both the "crown jewel" in Army marketing strategy and a "springboard to bolster recruiting efforts." Also, a coach is selected each year to lead the squad of the nation's top high school players. In 2013, the squad was led by a man who by then was quite well known in Army recruiting circles: Central Catholic's football coach, Steve Pyne. 
Patrick Elder, director of the National Coalition to Protect Student Privacy, teaches religion and literature at a Catholic school in Maryland. Seth Kershner is a freelance writer working on a book about military counter-recruitment activism.