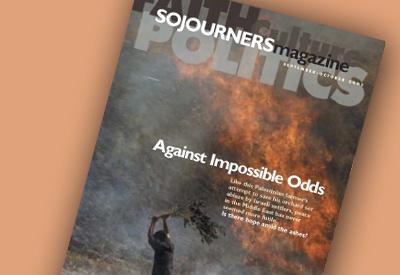 On June 15, three members of the Christian Peacemaker Teams joined 200 Palestinians and 20 Israelis at a nonviolent protest against the confiscation of a West Bank Palestinian village by Israeli settlers. "I know that you are doing your duty here," Rabbi Arik Ascherman told the Israeli soldiers at the protest, "but I hope that your witness of this event will prove to you that it's possible for Palestinians and Israelis to work together in coexistence."
The soldiers charged into the nonviolent protesters. CPTers Anita Fast and Anne Montgomery attempted to intervene when they saw soldiers beating two older Palestinian women and kicking another Palestinian woman as she retreated. "There's no need to use violence," Fast said. She was then hit in the back of the head by a rubber-coated club. "I'm nonviolent. You're hurting me," Fast said repeatedly. The Israeli forces eventually arrested six people, charging them with "refusing to obey a military order to leave" and "resisting detention."
"Getting in the way" of aggression, as Fast and Montgomery did, is one technique of Christian Peacemaker Teams. CPT, an initiative of Mennonite and Church of the Brethren congregations and Friends Meetings, trains small cadres of Christians for nonviolent direct action. Currently, CPT teams are on the ground in six countries.
CPT has been in the city of Hebron in the West Bank since 1995. Team members have occupied Palestinian homes to protest their demolition by the Israeli government and have fasted for 700 hours to highlight the bulldozing of Palestinian homes. An invitation from Hebron's mayor allowed CPT to start a long-term peacemaking project in the largely Muslim city. The team provides a violence-reduction presence with street patrols, responding directly when they hear about trouble and serving as a protective presence when someone is threatened. The team also supports Israeli and Palestinian peacemakers in their work.
Currently the Hebron CPT is sponsoring the Campaign for Secure Dwellings-a network of North American congregations working to end the Israeli military occupation of the West Bank and Gaza Strip. "It is clear to us," said Rich Meyer, the U.S.-based campaign coordinator, "that there can be no security for Israelis or Palestinians as long as the Israeli military occupation of the West Bank and Gaza Strip continues."
Susannah Hunter is news/Internet assistant at Sojourners. For more information, see www.prairienet.org/cpt.