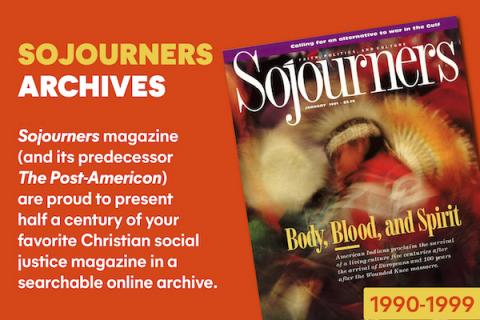 This was supposed to be the apathetic generation. Tell that to H. Scott Althouse, a recent graduate of Eastern College in Pennsylvania, who started an "Earthkeepers" club to promote environmentalism and global stewardship.
Or mention it to Dennis Markatos, whose organization "SURGE" at the University of North Carolina at Chapel Hill is taking on issues from closing the Army's School of the Americas to stopping sanctions against Iraq to protesting the working conditions of manufacturers of college logo apparel.
Or talk to Stephanie Wyatt, who just completed a yearlong internship at Virginia Tech's Baptist Student Union, where she came at social justice from a biblical point of view.
Contrary to the generally held view that today's college students are isolated, individualistic, and concerned only with their Internet passwords and resumes, social justice activism is thriving on campuses around the country.
But this is not their parents' Vietnam War protests, civil rights sit-ins, or mass demonstrations. Instead, it's e-mail list serves, internships, volunteerism, and letter-writing.
Instead of the cohesive, radical national movement of their parents, today's student activists are straddling the line between global and local problems, trying to discover where their generation fits in the struggle for justice and peace. Many of them are coming to activism from the perspective of their religious faith—and others are not—but all have a sense of urgency that for the first time in decades, some say, is causing U.S. college students to mobilize, organize, and act together.
The awareness of new issues has galvanized students and impelled them to action. Most visible is the national effort to protest sweatshop-like working conditions, often in underdeveloped nations, at companies that manufacture college logo apparel. At Georgetown University, for example, students recently occupied the administrative building to protest a contract with one such company, and Duke and Brown universities passed "codes of conduct" that require the companies to comply with basic labor standards.
This outpouring led a recent New York Times article to declare the labor protests "the biggest wave of campus activism since the anti-apartheid movement in the early 1980s."
But the sweatshop issue—and the range of related "living wage" issues for university staff and service support—is not the only matter that is lighting the fires of campus activists:
The U.S. Army's School of the Americas (SOA), a Ft. Benning, Georgia training ground that critics say instructs soldiers who "prop up" unjust and oppressive regimes in South and Central America, has become the focus of hundreds of students around the country who seek the school's closure.
Poverty and homelessness in the United States and worldwide poverty and hunger are prompting fasts and letter-writing campaigns at many campuses.
Environmentalism and environmental justice have also brought together student activists who feel a responsibility to protect the earth.
The affirmative action debate is leading many students to demonstrate against their own schools' policies as well as national policies affecting equal access to education. Thirty University of Texas students occupied the administration's main building last October to criticize that institution's admission policies.
Religious persecution around the world is also galvanizing students. More than 8,000 students currently participate in an e-mail congressional lobbying campaign through the Center for Religious Freedom, urging action to stop the mistreatment of Christians in Sudan. Southern Wesleyan University students made their opinions known by constructing a "mock slave pit" in commemoration of Abraham Lincoln's birthday this past year.
Excepting religious persecution, none of these issues may seem expressly religious at first glance. Particularly for college students who have just left the nests of their parents' values and religious training and may be confused about their new independence, it sometimes seems unlikely that faith would play a major role in student activism.
But much evidence points to the contrary. While there are significant secular resources for campus activists, faith remains a force behind college activism. Just as Martin Luther King Jr. taught more than 30 years ago, faith provides the sense that—in a world trying to tell students otherwise—there is meaning, truth, and justice to be pursued.
"It's all about justice," says Rev. Roy Bourgeois, a Maryknoll priest and founder and co-director of SOA Watch, a national organization dedicated to closing down the school. "For a lot of these students, it's connected to their faith in that oppression [and] exploitation are contrary to what we as people of faith and people of good will should be about."
Bourgeois, who often speaks to campus groups and hosts an annual vigil and memorial at the SOA gates, has seen a spike in student passion about the SOA issue in the last few years. Last November, 7,000 people, including many students, gathered at the annual demonstration; 10,000 are expected this November.
Bourgeois attributes the rise in interest in justice issues among college students to a new freedom of thought since the end of the Cold War. Today's college students, he says, are coming of age without the restriction that any call for justice or responsibility for the poor is rooted in communist thought.
We have reached a point in this country where at colleges, universities, and churches, we can debate and critique U.S. foreign policy and the plight of the poor without worrying about that fear," he says. "All of that fear has been in a way replaced with some hope."
"Hope-based" is how Dennis Markatos, a junior at the University of North Carolina at Chapel Hill refers to his campus organization, Students United for a Responsible Global Environment (SURGE).
Like many campus activist groups, Markatos' group has relied on the Internet to gather and disseminate information and resources. Since the fall of 1998, SURGE has been building an electronic "coalition" of students who are interested in the organization's three major issues—closing the SOA, ending sanctions against Iraq, and protesting sweatshops.
Today, more than 170 colleges in the United States and from 30 countries around the world belong to SURGE's list serve, an e-mail chain list that alerts members to upcoming activities or actions they can take in their own communities. More than 100 students traveled to Washington, D.C., in April for a "National Student Lobby Day" to close the SOA. Last February, the group sponsored a national day of action against sanctions on Iraq.
Markatos puts social justice, not religion, at the center of SURGE in the hopes of attracting the largest membership. But he personally draws from Christian and Buddhist traditions to motivate his activism, and he has presented SURGE to a local council of churches and a Baptist Student Union.
"It's based on calling the whole world our family," he says. "We shouldn't let certain things divide us or make us compete."
Student activism cannot be neatly divided into faith-based and secular. What motivates students to take time from their studies and devote themselves to a social justice issue is often difficult to pin down.
"Some of our agnostic students have been very active, and some of our most spiritually active students haven't been," says Ruth Krall, professor of religion and psychology at Goshen College, a Mennonite school in Indiana.
"But it's a both/and rather than an either/or," adds Krall, who directs the newly formed peace studies major.
In addition to labor and political issues, environmentalism and environmental justice are also pushing student activism. An increasing number of colleges have established faith-based environmental clubs and environmental science majors, including the theologically and politically conservative Oral Roberts University (ORU). ORU's Environmental Stewardship Club conducted a "Creation Care Week" celebration around Earth Day last year, and it has established a significant recycling effort on campus.
Eastern College, a Christian school in the Philadelphia area, also boasts a strong environmental club, Earthkeepers, with an e-mail list of 60 members. H. Scott Althouse, a recent graduate who plans to pursue his interest in environmentalism in law school, says that his Christian faith calls him to protect and defend the earth's natural resources.
Since its founding in 1997, Earthkeepers has undertaken many projects, including constructing a nature trail through the Eastern campus. Earthkeepers then invited fourth and fifth grade students from the Barry School, a poverty-stricken west-Philadelphia elementary school that Eastern has "adopted," to walk the trail and admire the lake, forest, and creeks on the campus.
Nicole Holt is director of the campus programs division for Target Earth International, a Christian environmental nonprofit with a mission to serve the earth and serve the poor. She sees wide interest among college students in putting their faith to work on environmental issues, whether for personal or more political reasons.
Holt recalls how an intern at Target Earth, which has 45 affiliated campus chapters, was giving out information at a Midwestern school last fall. "He returned to the table to find this young woman with tears in her eyes, saying, 'I am so glad to know you exist. This is so exciting. It's so important to me to have my faith and environmental action affirmed.'"
But with so much activity on campus being volunteer-focused, the question arises—is there a difference between community service and social justice activism? If one had to choose between the two, which would be more important? Many students struggle with this question, reflecting the larger tension between local and global, grassroots endeavors and national efforts.
Some observers of campus activism say that students get caught in the middle, unsure of the most effective way to use their energy. The tendency in academic circles to encourage a more narrow focus on one's studies doesn't help, they say.
"There comes to be a narrower focus that tends to be connected to their person," says James Skillen, executive director of the Center for Public Justice, a Washington, D.C.-based Christian nonprofit organization. Skillen, who regularly meets with students and speaks on campuses about a faith-based approach to politics, says that evangelical Christianity in particular, with its focus on the individual's salvation, has its work cut out for it in the struggle to mobilize for social change.
"The more passionate the evangelical Christian, the more they may say it's useless to change society through government—we've got to go back and save souls," he says. Skillen also worries that the onslaught of media and Internet images that students face every day may numb them to a sense that they can make a difference beyond the local or the personal.
"There are thousands of things happening, and they're all coming at you equally," he says, "There are too many things to grasp, so you stop looking for what holds them together."
Jerry Herbert, director of the American Studies Program at the Council for Christian Colleges and Universities (CCU), says his program offers the students Skillen describes a place to do just that—see that faith, activism, and politics have much in common. Eighty students per year come to Washington and spend a semester working an internship, studying an interdisciplinary American studies academic program, and praying and studying the Bible together.
"Every Christian has a ministry," says Herbert, whose students do internships at organizations as disparate as CBS Sports, public defenders' offices, the National Symphony, and inner-city Christian ministries. These students are seeking practical ways to integrate their faith with their academic and political learning. He says that they want to know, How can I go out as a minister of the kingdom to bring reconciliation to the brokenness in the world around me?
For the most part, student activists today tend to be mistrustful of national institutions such as government, observers say, so they tend to focus on endeavors such as Habitat for Humanity, a home-building group that has hundreds of campus chapters nationwide.
A 1998 UCLA study of incoming freshmen on hundreds of campuses across the country found that "keeping up to date with political affairs" was an essential life goal for a record low of 25.9 percent. But volunteerism struck an all-time high that same year, with 74.2 percent having volunteered during their last year in high school.
"They trust what they can see," says Tony Campolo, a professor of sociology at CCU-member Eastern College and a Christian speaker who visits an average of 40 colleges each year.
However, many leaders do not see the current localizing focus of campus activism as permanent. Instead, they say that today's grassroots focus is a step in the progression toward a more institutional, global focus, like students had in the 1960s.
"Right now, young people are willing to be God's ambulance squad, picking up the casualties of the system," says Campolo. "It's only a matter of time before they realize that for every victim that they help, the system is producing two more to take that person's place. With that awareness, they cannot help but once again call the system to biblical justice."
SOME CAMPUSES ARE BUILDING service requirements into the curriculum to combat the grim statistic that only 18.9 percent of the incoming freshmen in the UCLA study said they expected to continue their service work in college. In April 1999, Gov. Gray Davis of California proposed a plan to require community service at every California state college and university.
At Goshen, a college requirement that students spend three months in a developing country or do an equivalent period of service gives students a more global vision. Eighty percent of the student population goes abroad to locations such as Costa Rica, Korea, Indonesia, or the west coast of Africa.
"I think that deeply affects the students' activism. They have a much more global vision when they come back," says Krall.
Stephanie Wyatt, a yearlong intern at Virginia Polytechnic Institute and the Baptist Student Union there, found that students are looking for ways to expand their vision and think globally. Wyatt launched a Bible study called "Doing Justice, Showing Mercy," in which she photocopied news articles to raise awareness among her students.
"Even if it was a secular [newspaper], I tried to pick things that were obvious to me that the church had missed its responsibility on, or that the church was named as having responsibility," she says. But she found the students were reticent to stray too far from the Bible.
"What they needed and wanted was, What does the Bible have to say about this?" she says. The connection of Bible study and current events proved fruitful at Virginia Tech, where more than 50 students participated in a fast for world hunger and several attended a state Baptist Student Union conference on a variety of social justice issues called What Would Jesus Do?.
Wyatt says that she observed change in her students as they began to see their biblical base as a point of departure for activism.
"I really have to believe in God's power to use those seeds. That's what I had the opportunity to do this year, to plant a lot of seeds," she says.
Wyatt, like many student activists who are especially driven by their faith, is choosing to enter campus ministry. This fall, she will be part of the inaugural class of Wake Forest University's divinity school.
At seminaries around the country, some of the same issues that are gripping college-aged activists are receiving increasing attention.
"There are a lot of signs of life and activity," particularly in the labor and nonviolence movements, says Bill Wylie-Kellermann, director of graduate theological urban studies at the Seminary Consortium for Urban Pastoral Education (SCUPE). SCUPE offers a semester-long program in Chicago for seminarians who are interested in urban ministry.
But not all seminarians are like Wyatt, who is just one year out of college. Many are embarking on their second careers, while others have spouses and children or hold down full-time jobs while attending seminary. Wylie-Kellermann says this puts a strain on the level of activism among seminarians, but that there is interest in the social justice issues that are prompting involvement on college campuses.
Wylie-Kellermann attributes the rising interest in social justice issues to forces external to the seminaries, though, either within church culture or in secular social justice movements. Therein may lie the future of campus activism, at the seminary and college level.
"I don't see the institutional seminaries themselves generally pushing activism," he says. "I think the invitation to activism is going to come from the movements themselves, the revival of movements in the culture."
Holly J. Lebowitz is a religion writer who lives in Cambridge, Massachusetts.