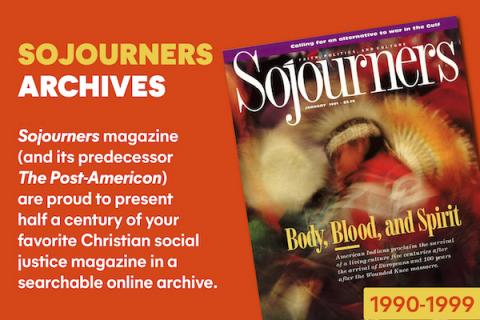 Therefore, since we are surrounded by so great a cloud of witnesses, let us also lay aside every weight, and sin which clings so closely, and let us run with perseverance the race that is set before us, looking to Jesus, the pioneer and perfecter of our faith. — Hebrews 12:1-2
I have spent a good deal of time on Sunday mornings contemplating the stained glass windows of my parish church. As in many another Catholic church, these windows present a gallery of popular saints. They are a reminder that those who gather to worship God in the name of Jesus are never alone. There is a wider "communion of saints" that unites believers across all boundaries of time and space; even across such a boundary as divides this world from the next.
This communion with those who have "died in the Lord" was a vivid reality to the early Christians. They liked to gather at the graves of the martyrs to remember their heroic witness and to commemorate the anniversaries of their deaths. It was this devotion that gave rise to the cult of the saints.
There was a time when martyrdom was virtually the defining characteristic of sainthood. The men and women who died in the Roman arena had offered a total witness to Christ, not only imitating his death on the cross but proclaiming by this sacrifice their faith in the resurrection. Their blood, as Tertullian said, was the seed of the church.
But as the era of martyrdom passed, so it became clear that there were other ways of bearing witness. There were those whose prayer and self-sacrifice were so intense as to constitute a kind of living martydom. Such holy men and women did more than set an edifying example. They assumed an aura of transcendence and sacred power. This power even extended beyond their deaths—hence, the miracles associated with their relics and with the invocation of their names. Increasingly this miraculous power itself became a certifying mark of sanctity. But as this became so, the saints served less as ideals of Christian discipleship and more as miracle workers or heavenly patrons. The saints, it seemed, were more to be venerated than imitated.
In the windows in my parish church, I see many of the greatest of the canonized saints: Teresa of Avila, Jerome, Augustine, Catherine of Siena, Clare and Francis of Assisi....I wonder if they are widely noticed, or whether these windows are not simply part of the "religious" architecture, easily taken for granted. For many Christians, the saints are little more than legendary figures—"perfect Christians"—who bear little relevance to their own daily struggles and concerns. It does not help that so many of these saints seem to be clothed in religious garb. What do such "special" people have to do with the challenges of ordinary life in "the world"?
IN THE MINDS OF many people today, the legends of the saints reflect an all-too stereotypical pattern: They spent their lives in prayer and performing good works. Some of them were martyrs. Others founded religious orders. Others had visions or performed miracles....All this may be true, but it tends to elide a good many issues.
While there are recognizable patterns in the lives of the saints, each one was in his or her own way an "original." They achieved their holiness with the material at hand—material, in many cases, of apparently dubious quality. Many of them struggled hard to invent a new style of Christian witness in response to the needs of their time—not infrequently needs obvious to themselves alone. Even among the canonized saints, it is striking how many of them paid dearly for the originality of their vision. Along with the many certified martyrs, there are countless stories of those who suffered persecution or humiliation—not from ostensible "enemies of the faith" but at the hands of their fellow Christians. All this is easily forgotten.
The great Christian apologist Pascal, writing in the 17th century, observed how easily veneration of the saints can pass over into a pious trivialization of their challenge. We tend to regard the saints as "crowned with glory and years, judged almost divine before our time." That is how it seems to us, with the passage of time.
But at the time when he was being persecuted, this great saint was just a man called Athanasius; and St. Teresa just a woman. Elias was a man, subject to like passion as we are, as St. Peter says, to rid Christians of the false idea which makes us reject the example of the saints as bearing no relation to our state. "They were saints," we say. "It is not the same for us."
This is one reason, apart from humility, that holy people are loath to be called saints. As Dorothy Day, founder of the Catholic Worker movement, used to say, "Don't call me a saint. I don't want to be dismissed that easily." By putting saints on a pedestal, we imply that their example poses no personal challenge. But when this happens, the Christian imagination is immeasurably weakened.
Describing the function of the saints, Karl Rahner wrote, "They are the initiators and the creative models of the holiness which happens to be right for, and is the task of, their particular age. They create a new style; they prove that a certain form of life and activity is a really genuine possibility; they show experimentally that one can be a Christian even in 'this' way; they make such a type of person believable as a Christian type." The saints are those who, in some partial way, embody—literally incarnate—the challenge of faith in their time and place. In doing so, they open a path that others might follow.
THE CHURCH MAKES NO pretense that its list or "canon" exhausts the number of actual saints. There are countless men and women whose holiness is recognized by God alone. Along with the "official saints," they are commemorated by the church on November 1, the feast of All Saints. The process of "making saints" has itself undergone considerable evolution in the past 2,000 years. In the early centuries, canonization was largely a matter of popular acclamation; it was the people of a local church who proclaimed that a saint had been in their midst. Over time this was replaced by an intensely organized and bureaucratic process centralized in the Vatican.
Today, before any persons can be declared "blessed" (beatified) or officially canonized as saints, their lives and writings must be examined for evidence of heroic virture and doctrinal orthodoxy; finally, they must be credited with the performance of miracles. While this elaborate process underlines the solemnity of the church's declarations, it tends to influence the selection of candidates for canonization. If the canon of saints—especially in modern times—is overly populated by members of religious orders, this reflects in large part the fact that such congregations have had the time and resources to invest in the lengthy process of canonization. The official process has been notoriously weak on promoting examples of lay holiness. It has tended to recognize conventional forms of piety and to avoid the prophetic figures, those who brought discomfort to the religious authorities of their time. Finally, the weight attached to miracles tends to reinforce that sense of "otherness" in the saints that only undermines the power of their example: "They were saints; it is not the same for us."
Nevertheless, most people, I am convinced, possess an instinctive ability to recognize heroic sanctity when they see it. Quite apart from any official process, they recognize that there are certain people whose lives, in some extraordinary fashion, proclaim the mystery of the gospel. Of those included in the book All Saints, some are persons who might well be candidates for official canonization: Archbishop Oscar Romero, Thomas Merton, or Dorothy Day are a few examples from recent times. But my list includes others, such as the martyred theologian Dietrich Bonhoeffer, or Albert Schweitzer, or the Methodist John Wesley who, as non-Catholics, would never be eligible for formal canonization. It is not hard to argue that such lives present a more vivid inspiration for contemporary Christians than the memory of many long-ago saints.
Then there are non-Christians like Gandhi, or the Jewish prophet Abraham Heschel, or even non-religious moralists like Albert Camus, whose impact on Christian spirituality and ethics has, arguably, equaled that of any orthodox Christian of our time. By including them in an expanded roster of "saints," my intent is not to dragoon them unwillingly into the Christian fold but to point in the direction of the God who (according to St. John) is "larger than our hearts."
The more troubling question, for some readers, will be the inclusion of men and women who do not represent any common standard of holiness. Insofar as this poses a problem, it may arise from our tendency to equate holiness with moral perfection. Such an equation—it is worth noting—was unfamiliar to the authors of scripture. Most of the biblical heroes—including Abraham, Jacob, Moses, and David—are in many ways deeply flawed. The same must be said for Christ's closest disciples.
And so the procession of figures in this book is a somewhat mixed and motley crew. Doubtless St. Augustine or St. Dominic would be alarmed to find themselves linked with the likes of Vincent van Gogh or Leo Tolstoy. (The obverse is just as likely.) In such a work, the selection itself inevitably makes a certain statement. How to choose? Here I have been guided by an insight of Simone Weil: "Today it is not nearly enough merely to be a saint; but we must have the saintliness demanded by the present moment...." I believe that many traditional saints, precisely insofar as they responded to the demands of their own moment, remain a precious resource. But what are the needs of the present moment?
PREVIOUS MODELS OF sanctity tended to emphasize a world-denying asceticism; today we need examples of discipline and self-denial in service to the world and in solidarity with a suffering humanity. There are countless saints who exhibited the virtue of charity; we need saints who combine charity with a prophetic thirst for justice. Much of Christian history has been written with male hands; we need to recall the example and the gifts of holy and prophetic women. The traditional list of saints has been dominated by the clergy and those in religious life; we need to give special attention to the witness of lay people—those whose vocation is to infuse the "world" with the spirit of the gospel. Church history tends to be written in Western terms; in this era of what Karl Rahner called the "world church," we need to remember the struggle of saints who translated the gospel into the idiom of local, non-Western cultures, who engaged the wisdom of other religious paths, and who tried to understand their faith in terms of new intellectual and cultural horizons.
We need examples of holiness beyond the cloister: saints immersed in the worlds of art, literature, scholarship, in political struggle, and in everyday life. We need prophets who challenge the church as well as the world to better reflect the justice and mercy of God. We need the witness of the martyrs, ancient and new, who have laid down their lives for their faith and for their neighbors. We must attend the vision of the mystics, who see through the shade of everydayness and so remind us of the God who is ever-greater than our theologies or our imaginations.
Are there saints who speak to all these concerns? Perhaps a few. But probably the challenge is to draw on the partial witness of many holy companions for our journey, a journey that begins where each of us stands.
We are formed by what we admire. But it is possible to cultivate one's taste in this regard as in any other pursuit. It is important to learn how to recognize what is good, to train our ears to discern the truth, to pay honor to what is truly honorable, to choose a moral standard that lies beyond our easy grasp. It is especially important to convey such lessons to our children, who are otherwise too easily beguiled by our culture to admire what is merely glib or successful, to honor power, superficial beauty, and the illusion of celebrity.
How are we to learn these things? Did anyone ever become better from reading a handbook on ethics? Yet most of us, at one time or another, have felt our hearts respond to an example of courage, goodness, or spiritual nobility, that inspired us to a higher path. It was thus for the saints themselves. One of the recurring motifs in their stories is the importance of an encounter with another saint—sometimes in person, but often through reading a story or hearing a legend. I can truthfully say of my own life that I have learned far less about the gospel from studying theology than I have from the lives of holy people. In part this reflects the narrative structure of the Christian gospel. The truths of Christianity are verified in living witness rather than in logical syllogisms.
But the saints do more than offer an edifying example. There is indeed an aura of transcendence and sacred power that surrounds their lives. This has little to do with the display of miracles, in the traditional sense. It has more to do with a quality of mystery that is only reinforced by their human idiosyncrasies. Like the figures in the stained glass windows, they are illuminated by a source beyond themselves. Thus, they help to awaken us to the realization, if we allow it, that our own lives are illuminated by the same source. As Cardinal Suhard observed, to be a saint means "to live in such a way that one's life would not make sense if God did not exist."
IT IS EASIER TO explain the logic for combining traditional and unconventional "saints" in this work than it is to explain what all these lives have in common. Readers may discern their own patterns. But I have been struck by the uncompromising character of their commitment, by their willingness to sacrifice everything for the sake of their vocation. Sometimes what now makes them seem heroic or admirable made them, in the eyes of their contemporaries, rather difficult to tolerate. This too must be recognized. Holiness is not the same as "niceness" or even "goodness" in the usual sense.
No, the saints are not perfect humans. But in their own individual fashion they became authentic human beings, endowed with the capacity to awaken that vocation in others.
Robert Ellsberg was senior editor at Orbis Books in Maryknoll, New York, when this article appeared. He was the author of the forthcoming book, All Saints: Daily Reflections on Saints, Prophets, and Witnesses for Our Time, from which this article is excerpted. Copyright ©1997 by Robert Ellsberg. Used with permission of The Crossroad Publishing Co., New York.